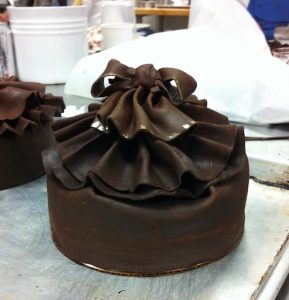 my Chocolate "Ribbon" Cake ICE Culinary May 11, 2011
It's that time of year again and everyone is busy envisioning their perfect Valentine's Day celebration.  The reels and wheels of my social media feeds are featuring all manner of eye-popping and intoxicating treats to make for your sweetheart.  This week, as we ponder how to celebrate and perhaps, what to make in our own kitchen, the topic of Chocolate will become central.
On this holiday, I usually stay at home and make my favorite Rack of Lamb, a rich and ooey-gooey ensemble of au gratin potatoes with Fontina and Gruyère, and either asparagus or broccoli with hollandaise.   That suits me just fine and I don't have to fight with anyone to get into a decent restaurant.  Mid-February calls for one or two major distractions after the Super Bow that aren't snowstorms, doesn't it?  We all have our eye on the beginning of March and I particularly do as I begin to scour my local garden centers for their first servings of Ranunculus.
You'll notice that I haven't mentioned the pièce de résistance, that being of course, dessert.  For the perfect treat, the question here will inevitably become, will it be a matter of my palate or yours?  Chocolate seems to almost always receive top billing, for all of it's romantic, silky and seductive qualities, and opens the door for much discussion about this premiere ingredient, on quite a few levels.  Chocolate production is a most precarious process, the subject of which is chronicled on an on-going basis.  Also of note is the use of chocolate in the "manufacture" of supermarket items, some of which we have come to know over decades in this Country.  We'll look at this a little bit later.
If I were going to dinner at one of my favs, the Gotham Bar and Grill however, I'd order their Pear Soufflé, my one and only sugar bomb of choice in NYC, for I am usually partial to fruit desserts.  If I were choosing a chocolate dessert, I'd most likely choose one with fruit and chocolate combined.  I happen to think that a long stem strawberry covered with dark chocolate is one of the simplest and most perfect ends to a meal.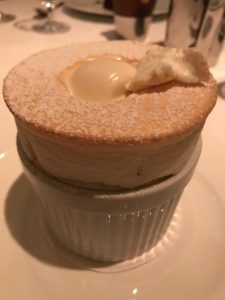 Pear Soufflé at GBG
Generally speaking, I usually will rail against a sugar bomb dessert, but not that Pear Soufflé (I'd never refuse a good piece of chocolate on the side, though).  It floats into my mouth and I would easily forego the Rack of Lamb there (just kidding – I said that for effect) to have one or two soufflés.  The only other Rack of Lamb I'd sit for is at Carbone, where my daughter Christin polished off that beast of a dish on Christmas Eve 2016 while I sat and watched in awe.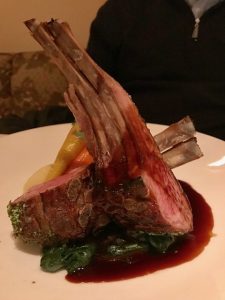 Rack of Lamb at Gotham Bar and Grill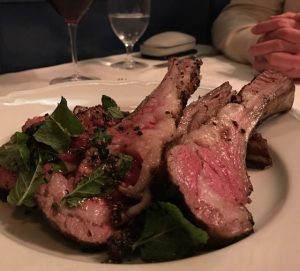 Rack of Lamb at Carbone
Anyway, besides consideration being given to all the possible Valentine's Day dessert options,  I am here today to lament another of my grocery store traumas and this one relates to chocolate. This may seem like a complete non-sequateur to the beginning of this post, but, the underlying conundrum, the quality of chocolate, whether in the degradation of pre-fab treats or in supermarket chocolate options is indeed an issue for consideration.
I'm always interested in the changes that occur to the quality of eating at both ends of the spectrum.  While pastry chefs the world over are working to perfect not just their designs but the flavor of their product, at the very same time there are multi-national corporate conglomerates whose mission is to degrade product in exchange for a milli-cent of extra profit.  Day in and day out, I tend to both marvel and fester over these trends.  In particular, I tend to focus on (and steam about) the assumption that the consumer will not notice the degradation at all or if they will, they will merely accept this and continue to buy their product.
When I was in pastry school we baked and worked with, and ate a lot of chocolate.  I am not the biggest chocoholic in the world, a term my dear Mom, who coincidentally passed away 11 years ago today, used to refer to herself as, a rarity in self-reflection on her part I won't ever forget – she never talked about herself.  Anyway, I suppose I find this day to be appropriate to wax, not poetic but nostalgic, about Chocolate because as I always do, I have her uppermost in my mind always, but especially on this date.
Those of you who know me and are constantly reminded of my proclivities on social media know that one of my obsessions is to mingle around food markets, out of doors and in, this Country and that, eyeing offerings, inhaling and sometimes sampling but mostly reveling in the beautiful bounties that are set out for us to ogle and consider before we purchase.  My roaming around grocery stores is frequently known to involve making note of the changes for the better and for worse.  I am an expert at this – just ask my family who has to hear about it on an ongoing basis.  This will usually involve the famous "discontinued" of more than my fair share of favorite items that I have grown attached to over my 63 years.  These things may or may not be critical to life as we know it but I become incensed each and every time I return to the same place I have been shopping for a hundred years and all of a sudden, what I want has vaporized into the "oh, we don't carry that anymore or "it's been discontinued".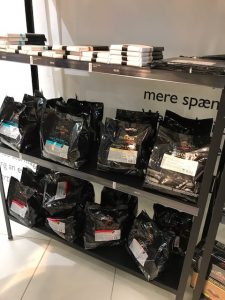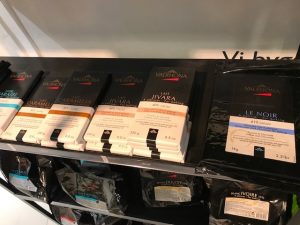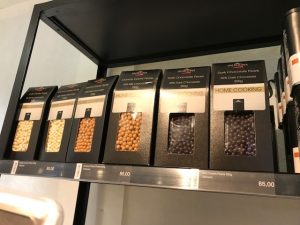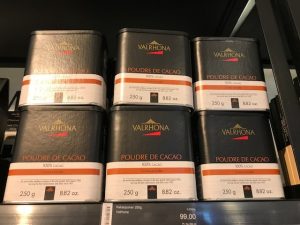 the considerable Valhrona offerings at Illum in Copenhagen this (6/17/17) Summer; I spent a lot of time ogling
Oh well, you may not consider this to be one of the major travesties of life, but it is just one of those things that gets under my skin and sits there.  And now that I am in my 60s, my husband asks me on an ongoing basis, if I am going to repeat myself over and over again whenever I pull out one of my favorite remarks from the perturbed department.  Isn't this merely a right of passage?
Well all that is by way of introduction to today's topic – the loss of the chocolatey taste of Chocolate.  Having been schooled at Pastry School and in life about the virtues of not just selecting quality chocolate but treating it with the respect it deserves, today, however, I want to ruminate about the insult to my palate that is going on when it relates to chocolate in supermarket food items.
I happen to have an ongoing argument all the time with my son, the inheritor of my Father's extremely sensitive and perceptive palate when he tells me that something is "cosmic", that's his word, and I taste it and all it tastes of is sugar.  He has a few favorite treats from NYC and now LA bakeries, not to mention the ongoing Key Lime Pie obsession that he has undertaken as a life long pursuit.  I tend to disagree with him on all his picks, save the KLP from the Breakers in Palm Beach, where he is known to sit on his bed after dinner every single night of our stay and polish off what they might call a slice but I would call a boatload of the most indulgent and satisfying crate load of sugary goodness known to man on a single plate.
Anyway, I do go on.  I am not partial to supermarket goodies anymore.  I make my own when I am inspired and craving something.  My Mom's brownies – https://www.kitchen-inspirational.com/2015/01/06/light-air-deep-rich-moms-brownies-still-best /are still my absolute favorite and she made hers with 2 blocks of Baker's unsweetened chocolate, hardly gourmet but always classic, the endearing kind of classic.  What I am here to complain about is the few and far between indulgences I take backward into my memory from the ready-to-wear variety, you know, aka ready-to-eat.
Today I am picking on 3 items in particular (I have always dreamed of being a food,restaurant and all-around hospitality critic): Oreo cookies, Hershey's Chocolate and my most recent foray into degradation, Haagen Daz Ice Cream.   It is usually at this time of year, and/or when I'm feeling blue that I might be tempted to indulge, if you can call it that, on a particular item that holds forth in my considerable foodstuff-borne memory.
First, Oreo cookies used to taste like chocolate.  Now they basically taste like chalk with a sugary blob inside.  Every time I see a recipe online where someone is incorporating (why?) store bought  Oreo cookies into some melange of something else, I wonder if the bags that they get are as bad as the ones I infrequently get.  Each of the say, last 5 bags I have purchased have gone straight into the garbage, after that hopeful first nibble.  Thanks a lot Mondelez.
Second, Hershey Bars.  I am known, usually once a Summer (maybe twice) to get out the marshmallows and graham crackers and make myself a S'more.  To this very day this treat reminds me of the very first time I ever had one at a Brownie meeting that I had to walk to at my troop leader's house on Mill Road in Morris Township circa 1960 – I was probably six.  Last Summer when I engaged in this special Summertime ritual I was nearly brought to spat –  that is spit out the S'more because there was zero chocolate flavor in the Hershey bar.  It was cloyingly sweet and literally tasted like soppy corn syrup – I was appalled and ended the game, something I consider border-line criminal.
And third, just a couple of weeks ago, one dark and cold night I asked my husband to get me a pint of Haagen Daz Chocolate ice cream.  It was a Friday night after dinner and I just wanted a little something, you know.  I had a couple of spoonfuls, yes I did, maybe the last two to try to confirm, that indeed this did NOT taste like Chocolate – I don't know what to say it did taste like.  And, in an instant, I was sworn off what I used to hope was the last bastion of supermarket ice cream that could be "trusted".  No more.  Add it to the list of victims of buy-outs.
It's not just the watered down or non-existent chocolate flavor that irks me.  I am well aware of the gigantic food conglomerates' race to the bottom – and I do mean bottom line and bottom of barrel in an effort to at the same time claim they are maintaining quality and serving up profits to their wanton shareholders. (Hershey is still remarkably wholly owned but sadly tried to sell themselves to Mondelez in 2016)  I don't think Milton Hershey would approve of today's Hershey bar.
I get all this, I do. And, I know that as I am well past the age where I am considered a target of anyone's marketing campaigns save for perhaps Ben-Gay (what, you don't know Ben-Gay?) and Depends, well, I am insulted beyond belief that they are trying to pass off these products to anyone and everyone who actually KNOWS  a. what real chocolate tastes like and b. what these very same products used to taste like.  The unmitigated nerve!
So there you go, you got my Friday afternoon rage at the local supermarket, chocolatiers (don't call them that) and the worst bait and switchers that happen to be on my mind today and this week as we float into Valentine's Day.
So, after all that, I'm going to tell you that this weekend or next Wednesday, whichever is your choice, if you are going to make a chocolate surprise for your Valentine, make it with the best possible chocolate you can find – and don't use Hershey's!  The marginal cost is minimal and the improved flavor is marginal and will be appreciated by all!  I promise!
Here are my best choices for baking chocolate and cocoa powder:  Valhrona, Scharffen Berger, Guittard, and Callebaut and Pernigotti.  Have fun, indulge and be sweet!  Enjoy!
Even if you are just making Chocolate-covered Strawberries or a simple cake with a ganache, use the best you can find!  Always use the best you can find, but if you are making my Mom's Brownies, you can go ahead and use Baker's, like I will, in her memory. 🙁