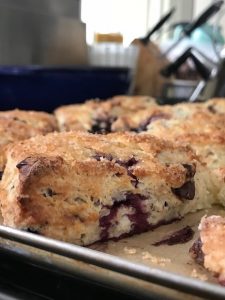 Well, it's mid-January and I'm well into my predictable countdown to Spring.  That would be approximately 9 weeks.  I began craving brightly colored flowers on Monday as we drove home from Portland, Maine.  Lucky for me our excursion up on Saturday was gifted with a brilliant clear sky and great high pressure.  It was darned cold but the elements continued for the weekend and buoyed my spirits until we returned to Boston early on Monday and drove into snow squalls.  My hands instantly began to ache as we drove along past Cambridge after depositing the kids at Logan.  I rumbled under my breath about how thoroughly vulnerable my body and psyche are to changes in the elements even as images of my sadly mangled Montecito and the tragic loss of life on the other coast sat at the back of my throat.  One must always remember that the elements are as fickle and dangerous as they are remarkably beautiful, I mumbled to myself.
As we drove along, I was counting the weeks in my head until I can come home laden with those sorely-awaited and prized flats of brightly-colored Ranunculus – usually in the first two weeks of March.  This is not to say that I haven't been feasting my eyes on the glorious offerings so generously shared by other flower-obsessed people all along since we had our first hard frost……..  I have found some amazing new sites over the past few months to follow – @botanicaetcetera being one of my favorites……  Do take a look – I don't think you'll be disappointed!  This Instagram page fills me up albeit for a short time, as my heart drains down to the low point and the Winter lingers on……..
Even as I walked along in the falling snow yesterday morning with Harley, my eye was set upon finding colors in the landscape.  If you are like me, as your eye scans the landscape, it returns with a lull and a yearning. But, if you look closely you will find little bits of color here and there.  Somehow, I think Mother Nature must leave little spottings for us so that we can remember what outside colors are and not be totally despondent.
A few of my findings:
-the snow was particularly photogenic yesterday with great definition capturable just as it fell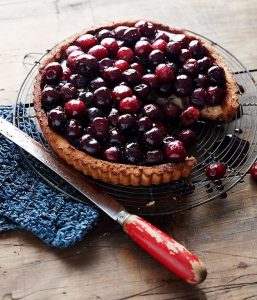 Pete Evans' Cherry Pie courtesy Australian Gourmet Traveller
Home I came and my mind jumped back to a memorable cherry pie published by Australian Gourmet Traveller on Tuesday – /http://www.gourmettraveller.com.au/recipes/recipe-search/chefs-recipes/2014/12/cherry-pie/ that caught my eye and my imagination.  The cherries were big, plump, deeply-colored and even exotic looking in their bosomy lushness.  Take a look on the link at those cherries and tell me if they don't make you swoon right about now.
Of course, fresh plump cherries in January would evoke exotic thoughts just now as we are starved for the weeks of abundance that won't happen until about 6 months from now.  In my continuing wonderment about the content of the "coded mind" vs the conditioned one, I got to wondering if we might indeed be destined to crave the brightest fruits in the depths of Winter.  As I cut the skin from a blood orange yesterday, I found I couldn't take my eyes off those brilliant little lobes of varying, glistening colors.
Anyway, it is certainly not a new idea, but I am here today to remind myself as well as anyone else who might be game to listen, of a particular merit of the genré that is frozen fruit – not just because it can be a bounty of inspiration for those of us who do support farm to table and in season produce but can't quite bring ourselves to be purist about it at this time of year, but because in this particular case, using frozen fruit will improve your results in the practice of baking scones.  That magic that happens in your oven when your dough is cold and hits the hot oven, will yield even greater results if you incorporate frozen fruit rather than that of room temperature. You will, of course be dropping the overall temperature of your dough even further than usual.  It must have subliminally registered in my brain yesterday as I studied the coagulated snowflakes all along the way resting on branches here and there in the landscape and went home and applied the same concept.  Little bits of cold things stuck to other cold things……….. Yup, uh-huh – this is how my mind works…….
As I was walking along in the snow yesterday I got to thinking about what exactly to bake when I got home.  There is something just so comforting to me about baking in my kitchen while the snow swirls around the house.  I actually look forward to doing this in the dead of winter.
We bakers all know that scones are the best when the ingredients are really cold.  Some people freeze and then grate their butter on a cheese grater.   Thomas Keller, among others, freezes his prepared scones for a bit before baking them.  And so, it is just logical that if you gently work frozen fruit into your scones, the overall dough will be colder when it hits the heat of the oven.
And so, voila – these popped in and out of the oven in no time – and the fragrance was heady – not to mention the taste!   So, pop out to your local Whole Foods and stock up on a few bags of frozen fruits to make your Winter scones. Or, if you are like me and you hoard July's peaches et al in the freezer, now is the time to pull them out!  I'm wishing I had some of those truly delicious blueberries I had in Portland Maine this weekend.  They sent me into wondering where they'd come from and whether they had some magical ability to grow their extra-flavorful blueberries in the frozen tundra!
While I thought about making a snowflake scone of some sort, I chose the clean and bright flavors of cherries and dark chocolate and the sparkling light of a tad of white sugar so as to not soften the full flavor and brightness of the cherries and their perfect foil, the deep chocolate.
Dark Cherry and Chocolate Chunk Scones
3 cups unbleached flour
1 tablespoon baking powder
1/2 tsp fine sea salt
1/4 cup sugar
8 tablespoons unsalted butter, cut into small pieces
2 eggs
1/2 cup buttermilk
1/4 cup greek yogurt
1/2 tsp almond extract
3/4 cup chopped semi-sweet bar chocolate such as Ghiardelli
1 cup frozen dark cherries (separate if frozen together) (I used Whole Foods)
egg wash
muscavado sugar
Preheat oven to 400F.  Line a baking sheet with parchment paper and set aside.
In the bowl of your food processor, whir together the flour, baking powder, salt and sugar.  Add the butter pieces and pulse 8-9 times or until the butter resembles small peas.  Dump this mixture into a low, wide bowl and make a well in the center.
In a 2 cup pyrex cup, whisk together the eggs, buttermilk, yogurt and almond extract until smooth.  Pour the mixture into the well of dry ingredients.  Working with a dough scraper, gently pull the dry ingredients into the wet until a mass begins to form.  Add the chopped chocolate and the frozen cherries and gently mix in.
Knead the dough until it holds together and move it to a lightly floured surface.  Roll out into a rectangle measuring about 10″ by 6″.  Using a bench scraper, cut the dough in half lengthwise.  Then cut the pieces into triangles.  Place on the prepared baking sheet.
Brush with egg wash.  Sprinkle with muscavado sugar.  Bake for 20-25 minutes until the scones are nicely browned.  Remove from the oven.  Serve with best quality sweet butter and a good strong cup of tea.
So go ahead and don't feel guilty about buying frozen fruit.  If you're like me, you'll find that even one of the most beleaguered supermarket genrés can be your friend and improve your scones as well, right about now.  Enjoy!