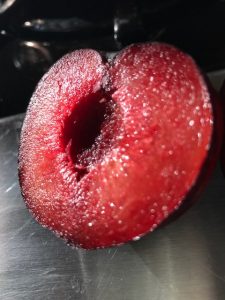 On Saturday, my husband asked for gluten-free pancakes.  It just so happened that he didn't want the pumpkin-bacon version I had made earlier in the week (?). https://www.kitchen-inspirational.com/2017/11/30/yolks-folks-gluten-free-pumpkin-bacon-maple-griddle-cakes/   So, I went to work on something different.
In December, I love to cook with red fruits.  I know that plums are not in season any longer – but I did score these at Eataly a couple of weeks ago and they were just fine.  This recipe can be made with just about any fruit you'd like.  If you can't find any plums now, try raspberries, strawberries and blackberries – or blood oranges or pears.  Dried fruits are an option here, too.  You may even find some cherries around – they are always in Whole Foods in the frozen section.  And, of course, figs – which were still around over Thanksgiving and you may find some in specialty stores through Christmas.  Whatever tickles your fancy.  Add in some fresh ginger, too!
This, by the way would be great with pork, duck or game.  Add in a little shallot if you're going for savory.  Or – check out my recipe for Roast Loin of Pork with Honey-Port Sauce and Figs in Intermezzo Magazine Issue 43 – on newsstands now.  This is de-lish and a nice treat for your holiday dinners – great with lamb too.
Spiced Plum Compote
juice and zest of one navel orange
3 fresh plums, pits removed and sliced into 8 pieces each
1/4 cup honey
1/3 cup sugar
1 sprig rosemary
8 whole cloves
1 star anise
1 segment fresh lemon with skin on
In a heavy bottomed saucepan, add orange zest and juice.  Toss in prepared plums and warm over medium low heat. Add honey and bring to simmer.  Add sugar, cloves, star anise and rosemary sprig.  Add lemon segment and simmer for 20 minutes or longer until compote thickens to desired consistency.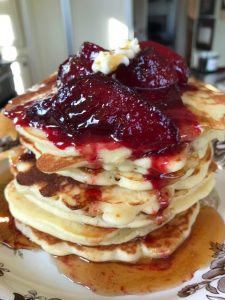 Photo'd Version – Gluten-Free Pancakes adapted from Neil's Pancakes, Clinton St. Baking Co.
2 cups gluten free flour – I used King Arthur Flour
2 1/2 tsp baking powder (fresh container)
1/2 tsp baking soda
1/4 cup sugar
1/2 tsp fine sea salt
3 eggs, room temp, separated
1 1/4 cups buttermilk
1/4 cup real apple cider
6 tablespoons unsalted butter, melted and cooled slightly
1/2 tsp vanilla or almond extract
butter for griddle
warm real maple syrup
In a large bowl, whisk together the flour, baking powder, baking soda, sugar and salt.
In a separate bowl, whisk together the egg yolks, buttermilk, apple cider, butter and extract.  Mix the wet ingredients gently into the dry ingredients just until combined.  Batter will be thick and lumpy.
In a medium bowl, beat egg whites just until medium consistency – firm but soft centers.  Fold 1/2 of the whites into the batter lightly with a rubber spatula.  Then, fold the remainder into the batter just until incorporated.
Heat buttered griddle over medium heat until very warm but not burning the butter.  Pour or scoop batter onto griddle in 1/4 cup measure.  Cook until just nicely browned on one side and flip.  Cook on second side until cooked through.
Garnish pancakes with the spiced plum compote and maple syrup as desired.
Enjoy!