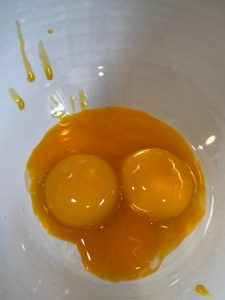 proof positive that my Mom is always with me
Yesterday, with all the news about the latest firing at the top of the media chain, as is often the case, one of my dear Mother's pet phrases popped into my head – "He Cooked His Own Goose."   Need I say more?
Today, another one of hers popped in – "These are the jokes, folks."   It popped in as soon as these fell into the bowl – only the jokes were the yolks………  (I need humor in the morning at this time of year when I am awakening at 4:15 daily.)
I can't quite believe it is one week after Thanksgiving already.  It seems like longer, doesn't it?  It is, happily, the last day of November already and I am working hard to slog through the darkening days.  Twenty one days now until the solstice!  I'm really not complaining here – I spent an entire  beautiful 64F day in New York yesterday. ( I'm just counting days here as I miss my flowers. Some day I am going to write a book about what all cultures in the world have done to get themselves through the darkest weeks of the years.  Many of our customs, decorating and foodstuff traditions were born in this endeavor.  I guess today would qualify as one of those efforts.)
While my crew was here last week, the topic of pancakes came up and the desire to go to Clinton St. Baking Co. where, it is basically universally accepted, they have the best pancakes in NYC.  I have come a long way over the years, in not being insulted when one of my children (ahem) constantly waxes poetic about someone else's cooking – an irritant that stingingly goes all the way back to the days that I gave away an entire batch of fresh-baked muffins to the carpool crew who happily accepted, while my own child declined.
This year I had to endure the droning on about a pumpkin cheesecake for weeks ahead of the holiday,  in lieu of my Mom's Pumpkin pie for the dessert table.  I caved – but was not impressed with the substitution.  I baked my own pie on Tuesday.
I have to admit though, that ex-post-facto, I have had those Clinton Street pancakes on my mind since the flurry of discussion that occurred last week.   And so today, an image popped into my head as I returned from my walk with Harley.  There is something about twenty-seven degree walks that somehow sets your mind in a certain direction. (how's that for an excuse?).
This is a new iteration of gluten-free pumpkin griddlecakes and I think it is a winner.  The recipe is adapted from Neil's pancakes from the Clinton Street Baking Co cookbook.  It is based on a half recipe of the recipe published in the book.  Never one to not absorb the irrefutable techniques of the great ones, I followed his lead on separating the eggs…… Of course this is not an original concept, but a technique that definitely produces a much-improved outcome.  Give them a try and, if you will as I will next time, decrease the quantity of sugar*.
My Gluten-Free Pumpkin, Bacon and Maple Griddlecakes – makes about 14 4″ griddlecakes
2 cups King Arthur Gluten Free flour
1/2 tbsp baking powder
1/2 tsp fine sea salt
1/4 tsp baking soda
1/2 tsp ground cinnamon
.375 cup sugar (or less*)
3 eggs separated
1 cup buttermilk
1/2 cup pumpkin purée
6 tbsp butter, melted and cooled
1 tbsp maple syrup (dark amber)
1/4 cup real apple cider
4 slices bacon, perfectly cooked
hot maple syrup
butter
Preheat griddle and butter lightly.
In a large bowl, whisk together the flour, baking powder, baking soda, salt, cinnamon and sugar.  In another bowl, whisk together the egg yolks, pumpkin, buttermilk, cooled butter, maple syrup and apple cider.  Add wet ingredients to dry and fold in.  Batter will be lumpy.
In a separate bowl, beat egg whites until of medium consistency (beaten with soft centers).  Do not over beat.  Gently fold 1/2 of the whites into the batter until almost incorporated.  Add the remainder and fold in.
Spoon onto the heated griddle and cook until nicely browned on one side.  Flip and cook through.  Arrange in a tower on serving plates.  Top with bacon slices and a dab of butter.  Ladle on your favorite maple syrup.
Enjoy!
Well, my "taste-tester" (that's too kind) isn't here today but, I'd guess he'd approve.  But, I know he'd still want to go to Clinton St. and compare them to Sarabeth's!  Some wars can not be won……..
Give these a try.  I think you'll approve!