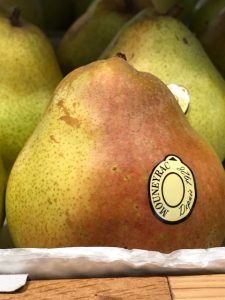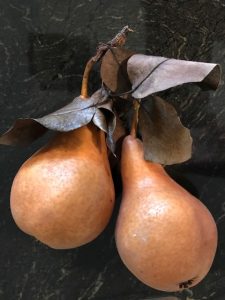 Pear Thee Well, Great Heart!  Act 5 Scene 4
Ok, I have finally just about let go of my mourning for peaches.  It is November 18 after all.  I actually asked my son to go to the Farmer's Market yesterday in LA and see if there were any peaches there, knowing full well that there weren't.  He knows enough to ignore my mis-directed, off-season, but wistfully hopeful predilections …… ("Mom, you're so annoying" is always the reply – in a certain tone)  My request wasn't that off the track – I did have some lovely juicy white peaches in the last week of October in Santa Barbara after all.
Anyway, it is time to turn my attention to another lovely specimen that I will fawn over for the next 6 months or so, the Pear.
I think pears are an under-appreciated fruit, generally taking a back seat to the great array of apples that appear in Fall and Winter.   Those lovelies above from Mouneyrac in France caught my eye in my favorite little produce purveyor on Avenue Mozart in Paris on July 16!   There they were, nestled in among all the other peak season Summer fruits and I couldn't resist snapping away at them.  Somehow, from across the shop,they spoke to me.  I think they're beautiful – I must be one of those people who, if they had any real talent, would paint them in oils.
For me, pears offer an "up note" to just about any dish or course for your table or snacking.  The key is to get them to their peak flavor – which is why I keep a supply of pears on my counter at all times nowadays (as I do peaches in Summer).  It's no surprise that I choose the Ginger Gold or Golden Delicious for my apple pies, as their flavor profile most resembles a blend of apple-pear flavor notes.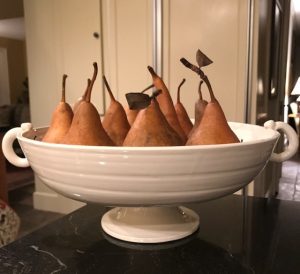 pears-in-waiting in my lovely dish from Frances Palmer as you already know
This week is generally the peak of the recipe barrage on the internet as we all get ready for Thanksgiving.  I'm here to say that everyone should consider featuring pears in one or more courses on your table.  Furthermore, you can keep the offerings coming right through the depth of Winter when so many of us are yearning for the next seasons.
Pears go well in every course.  Don't hesitate to experiment.  Let's take a gander at some of my favorite ideas – some of these recipes haven't appeared on the blog before – they were published in Intermezzo Magazine!  Subscribe today to indulge in all the glorious features in my friend Roseann Tully's fab magazines – the award-winning Sip, too!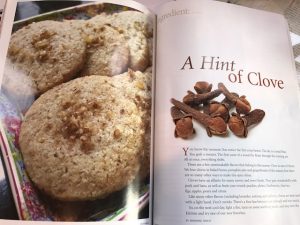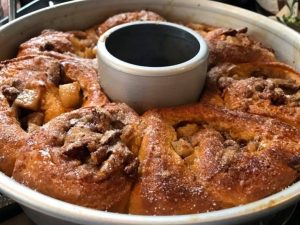 Breakfast:  You'll have to start this a day ahead of enjoying – for Intermezzo
https://www.kitchen-inspirational.com/2016/11/23/divertimento-musical-approach-enjoying-cook-sweet-potato-coffee-cake-pears-pecans-cardamom/
Appetizer course or just for snacking while your turkey is in the oven:
Baked Brie en Croute with Pears, Cranberry and Pecans
1 16 oz round brie, rind on
3 ripe but firm bosc pears, peeled, cored, sliced thin and sprinkled with lemon juice to prevent oxidation – or chopped into 1/2″ pieces
1/4 cup smooth cranberry sauce or jam or compote of your choice
1 box puff pastry, defrosted (Pepperidge Farm or Dufour for all butter)
egg wash
1/2 cup chopped pecans
honey
fresh cranberries for garnish
Preheat oven to 425F.  Line a baking sheet with parchment paper and set aside.
Roll out first sheet of puff pastry on a lightly floured surface.  Place on the prepared pan.  Place the brie in the center and with kitchen shears, cut around the brie, leaving a 2″ border.
With an offset spatula, spread the cranberry sauce (or compote) in a thin layer over top of cold cheese.  Top with the pear slices in a circle overlapping as you go. Or, if you prefer chunks, sprinkle all around, covering the top.
Fold up edges around the brie, overlapping as you would when making a galette.  Brush with egg wash.
Roll out second sheet of puff pastry.  Cut a circle using the container from the brie.  Roll out slightly to expand a bit.  Place the top onto the prepared brie and bottom crust.  Brush with egg wash.
Using a pastry cutter, cut two strips of remaining puff pastry and twist to make a decorative border.  Apply around the edge.  Brush with egg wash.
Sprinkle chopped pecans on top of top crust.  Place in oven and bake for 25-30 minutes, turning pan in middle of time.
Remove from oven and drizzle honey, in a cross hatch pattern, over top of crust.  Return to oven and bake an additional 5 minutes.
Remove from oven and let stand for 5-10 minutes.  Serve with your favorite crackers or baguette slices.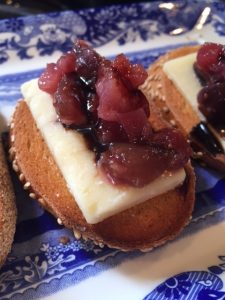 Clove-scented Fig and Pear Compote – for Intermezzo Issue 39
This rich decadent compote is a great accompaniment to savory or sweet dishes.
8 fresh black mission figs
1 large bosc pear, ripe, peeled and diced
2 discs crystalized ginger, diced
1/2 cup water
1/2 cup fresh-pressed apple cider
10 whole cloves
juice of 1/2 lemon
2 tbsp french acacia honey
2 sprigs fresh thyme
Cut figs into quarters.
Add all ingredients into a small saucepan.  Bring to a boil and reduce to a simmer.  Simmer until thick, rich and syrupy.  Remove thyme sprigs.  Store in a tightly closed container (mason jar) in the refrigerator.
Serving suggestions:  Spoon over roasted pork, duck, ham or turkey.  Spoon over crostini or your favorite crackers and cheese with a drizzle of aged balsamic vinegar.   Or spoon atop vanilla ice cream.
Accompaniment for Roast Turkey (or whatever you like): My Spiced Cranberry-Pear Chutney – /https://www.kitchen-inspirational.com/2012/11/14/the-wonderful-world-of-chutney-thanksgiving-and-holiday-meals-mostly-sacrosanct/
If you are serving salad: my favorite and oh so refreshing, Pear, Ginger, Parsley and Lime Vinaigrette – perfect on anything with celery root, btw.  I'd try Molly O'Neill's Pear and Celery Root Salad on the NYT website.  my vinaigrette is here: /https://www.kitchen-inspirational.com/2017/01/25/just-everythings-getting-old-spinach-salad-chicken-avocado-pear-toasted-pecans-pear-ginger-parsley-lime-vinaigrette/
Soup:  I usually make my butternut squash soup by roasting the squash with an apple and a small shallot at 375F for an hour, pureeing in the food processor with chicken or vegetable stock to desired consistency and topping with toasted hazelnuts or, if you're feeling extra-inspired, a savory chestnut crema.  Try this with a nice ripe but firm pear of your choice.
Side Dishes:
(I apologize that my blog isn't posting the links for these but is putting up these preview boxes.  I am working on this with my web site carrier.)
Gloomy Weather Brings Cozy Dishes – Sweet Potato and Pear Gratin
Desserts: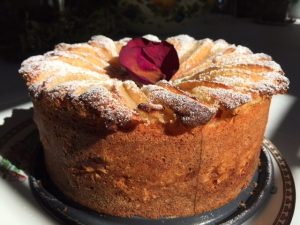 With Little Signs of Printemps: The Pear and Rose Water Cake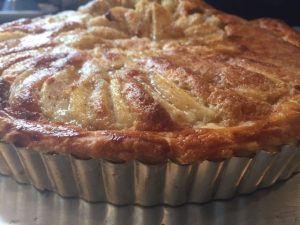 Puff Pastry Pear Tart with Clove-Scented Pastry Cream – for Intermezzo Issue 39
This recipe showcases the lovely shared affinity of pear, clove and lemon.  It's a showstopper and won't take you all day to make.
1 sheet Dufour* Puff Pastry, defrosted in refrigerator overnight
Clove-Scented Almond Cream (or use your favorite pastry cream recipe and add 1/2 tsp ground cloves)
9 tblsp unsalted butter at room temp
1/2 cup granulated sugar
2 eggs, room temp
3/4 cup finely ground blanched almonds
2 tblsp all purpose flour
caviar from one vanilla bean
1 1/2 tsp fresh lemon zest
1/4 tsp ground cloves
1/2 tsp almond extract
Filling:
5 bosc pears, ripe but firm, peeled, cored, sliced to 1/8″ and sprinkled with lemon juice to avoid oxidizing
generous splash of pear liqueur
zest of one half lemon
2 tbsp granulated sugar mixed with 1/2 tsp cloves
Topping:
1/4 cup sugar mixed with 1/4 tsp ground cloves
1/8 cup minced crystalized ginger
zest of 1/2 lemon
Directions:
On a lightly floured surface, roll out the puff pastry to 3″ beyond an 11″ tart pan.  Cut the corners off to follow the circle of the pan.  Arrange in the pan, rolling the excess pastry all around the top.  Gently press down to hold in place.  Place in freezer for 10 minutes.
Make almond cream by placing all ingredients into the bowl of your electric mixer fitted with a paddle attachment.  Blend on low.  Increase speed of mixer to medium and blend until smooth.  Increase speed of mixer to high and beat for 1 minute.  Set aside.
Make the filling by placing the pear slices in a low wide bowl and gently mixing with the sugar, cloves, lemon zest and pear liqueur.
Remove the tart pan from the freezer.  Re-set the top edge all around to form a "crown-like" edge.  Place the almond cream in the shell and spread evenly with an offset spatula.  Arrange the pear slices on top of the cream in concentric circles overlapping slightly.
Sprinkle the top of the pears lightly with the topping mixture.
Score the pastry edge with a knife on the diagonal at about 1″ intervals.
Brush the edge with egg wash.
Bake in a 400F oven for 30 minutes or until puffed, nicely browned, almond cream has puffed up and pears look bubbly.  Remove from oven and cool on a wire rack.  Gently remove collar of tart pan and place on a cake pedestal.  Dust with confectioner's sugar if desired.  Serve with a dollop of whipped cream.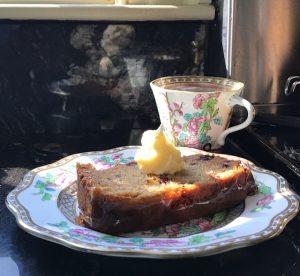 coming in the current issue of Intermezzo – The Pear and Ginger Loaf Cake with Cranberries
And, I'd be remiss if I didn't mention my favorite:  Ina Garten's Roasted Pear and Applesauce – it appeared originally in House Beautiful years ago.  I make mine with 3 lbs. macoun apples and 3 lbs. bosc pears, juice and zest of both 2 navel oranges and 1 lemon, 1 tsp cinnamon, 1 tsp freshly grated nutmeg and 4 tbsp butter. NO SUGAR!  Roast in a Le Creuset for 1 hour at 400F.  Mash to desired consistency with a potato masher.   This is the best no guilt dessert ever, btw.  But, I serve it all the time with Roast Pork.
So, go ahead and buy some pears today.  Pick whatever variety catches your eye.  I like to bake with Bosc Pears.  You should let them "ripen" on your counter until Wednesday or Thursday when they should be ready.
If you put Pears into the search box on the blog, you will get a full complement of my recipe ideas.  But do search around on your favorite food sites and gather all the recipes that appeal to you.  There are scones, other cakes and various and sundry other items to be found there.