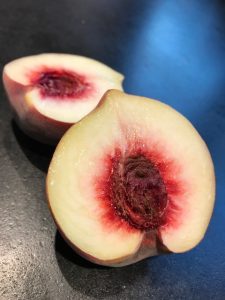 juicy white peaches from Santa Barbara Farmer's Market 10/28
Anyone else still waking up an hour early?  Yep, I have circadian rhythms that must be deeply steeped in the old brain of my evolutionary ancestors.  This is a condition that sets me up for challenges for 6 months of the year – a condition that has led me to a myriad of behaviors that may appear odd to some who don't quite understand.
I have spent the last three months since my return from France, doing an experiment.  I have been trying to find an exuberance level each day in my activities here that is similar to the one I had in Paris.  This, at the outset may appear to be complete folly to any rational person, but in order to try to circumvent complete annihilation at the reality that my dream Summer ended some 14 weeks ago combined with my extreme dread at the impending approach of the "dead seasons", I supposed it was worth a try.  A pivotal piece of this, of course, has been that I have been pretending that the warm weather, and the high on which I floated for 9 weeks were going to continue.  In Paris, it was light until 10 pm, a condition that worked extremely in my favor, is not able to be replicated here.  I began early and in earnest working up some cockamamie mind game to bridge me over to next year's Springtime.
As recently as Monday, and for a lot of the time since I returned, putting on a pair of Bermuda shorts played handily in helping in the endeavor.  Further, as recently as October 28, I was eating those incredible juicy white California peaches in the kitchen in Montecito!  I photographed blooming Morning Glories and have had many buds on several Clematis as recently as yesterday!  Ok, all was going along pretty well in my little game here.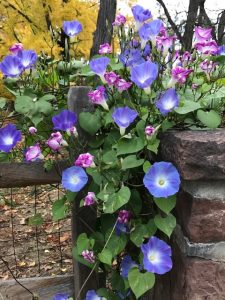 It was on Sunday, as I chatted with Frances Palmer at her studio in Weston, Connecticut that I was first confronted with the tinge that my little game might be about to drop with a thud and that I was in for a shock out of my self-created state of affairs.  (Please visit Frances' Instagram page for the highlight of your day if you are at all as smitten as I am with the remarkable beauty of flowers and her singular ability to transfer beauty from her mind's eye to the photo image.) She tipped me off that there was going to be a hard frost this week.  My first instinct was, oh, no, that's not going to happen – not the shock oh-no, the dismissal oh-no, mind you.   Even though she said this, I didn't have any real intention in internalizing the news.  Her words registered in my brain but as I walked to my car out in her driveway I was busy convincing myself that she must be wrong. She did say she had all those tulip bulbs to plant and so I was busy imagining her out in her garden doing so on a few more weeks of warm, sunny afternoons.  After all, things had been working out pretty well in my little delusional world for quite a while now.  And, as far as I was concerned, this warm spell could carry right over and we could forget all about the idea of and the reality of northern hemisphere Wintertime.  It happens in California, right?
But as this week progressed along, I began to see that my Morning Glories were beginning to stall out in the flowering department.  On Wednesday even, I had 4 blooms open but they were a little bit damaged.  As I wandered around the yard, I found new little deep purple blooms that cheered me.  We were still ok, I said to myself.  Even Thursday, the afternoon was fair and sunny in the mid-50s, acceptable in a nice sweater.  I continued on.
Then, early on Thursday morning in that instant that I saw that Frances had posted a clever and fresh Instagram image, I was both elated at her creativity but in that same instant I realized she had turned the page and moved onto the alternate subject matter of still life with fruits.  Oh, that was a stinger!  In an instant the question formed.  Was Frances actually more sensible and pragmatic than I?  Well, of course she is – and then, with the stinger still in, it took me yet another day to realize that she had in fact helped me a great deal.  For, in her willingness to embrace the reality of the season and, in real time, and her exuberance for new subject matter, she was moving on, and presumably happily so, to a whole new season of entertainment and creative endeavor – and, in that leap she had created for me the possibility that I could do so as well.  And while I had been way too unwilling to consider her lead and actually anticipate the next season and what it could possible hold for me, she was well ahead of me and enmeshed in a whole new bailiwick of material.  I took the moment to register the depth of my own tomfoolery.   From the words of her post I had gathered that she'd actually been looking forward to the hard frost – an emotion that had never even entered my mind due to my own internal stop sign.  It was just me that didn't want to accept this.  Lesson #1 of the week actually penetrated into perhaps the hardest head most aversion-steeped psyche on record.
Stepping back, I had to consider how it is indeed uncanny how certain people come into your life at certain moments and ignite for you the possibility of opening your mind on critical issues.  And granted, I don't know Frances well at all but, by just allowing myself to follow her instincts in her creative process has helped me this week to not fall into the pit of despair I had so dreaded and envisioned for myself.  Her second image, in what I will call the new chapter, occurred yesterday morning when she posted a perfectly cool and soothing portrait of celadon and eggs in a simple bowl.  How completely perfect I said to myself.  This is so keenly on point for the day that I realized her utter brilliance in a nano-second.  And so, the lesson smacking up against my face is to find the beauty in the day and don't waste your energy trying to pretend that the completely irrational is going to occur.  Seems so very completely simple to most people now doesn't it? (sorry for all my tense faux-pas).
So, in reality, while I was playing this little game,  I have spent the late Summer and Fall so far filling myself up with delicious images – on Cape Cod, in Denver and in Santa Barbara in addition to my own environs in and around NJ.  I waged several little interludes at the Presby Memorial Iris garden tickling my fancy with Fall iris blooms.  I made my frequent treks to the NYBG to drink in the Dahlias and witness in person the hummingbird and Monarch migrations.  I had 10 days of full-blown rose gushing at the Santa Barbara Mission.  I did my best to fill myself up with late season surprises and blooms – and those peaches that I snagged on their last good Saturday at the downtown Santa Barbara Farmer's Market.  Not so bad.
Lesson #2 of the week occurred on Thursday morning as well.  I had a fun romp trying to photo a blue heron, the top of whose head I just happened to spot as I rounded the corner by the pond on Lee's Hill Road.  Never one to be put off by a challenge, I pulled the car over (much to Harley's chagrin) and went off on the very narrow shoulder there to try to get him in my lens.  I got several shots as he moved away from me twice, and, while I was precariously perched atop a post between the guardrails, but none of them were good.  I left determined to get my camera equipment adjusted. So, there is indeed fodder here for me to play with at this point in the year.  And so, lesson #2 learned – it IS time to invest in the new camera and follow my continuing passion and delight in capturing the stunning beauty in nature.  I am as enthralled by this bird sitting for breakfast as much as I would be at a table with Fa-raon at Le Bristol, in a state of absolute glee.  And so, until I can return to Paris, until the Springtime returns with a renewal of shoots coming up out of the ground, I will not just divert, I will change the channel as Frances has, and embrace an alternate subject matter.  After all, when I lowered the last rose into the ground on Thursday afternoon in anticipation of the frost, I saw for myself the promise, little tiny rosy bud eyes were apparent there and promised me something new to come.
Lesson #3 occurred last evening as I scrolled through for the last time on my Instagram and came upon Erin Benzahein's post on her page Floret Flower.  Her spectacular image of an Autumnal floral arrangement along with her sentiment of "The power of flowers is real and strong." confirmed yet again for me that there are people out there who feel as strongly as I do when seeing these amazing creations in nature.  Erin grows flowers, and I do mean a lot of flowers for a living, a vocation I can only marvel at.  Her page also keeps me moving along on the trail of wonders that has become my daily obsession.
So, thanks to Frances, one unsuspecting heron and Erin, I will move on, one day at a time, through the next 20 or so weeks.  I will take Frances' lead and try to find some inspiring images to enlighten me on a daily basis.  I will follow the heron around should he stay nearby and try to get one beautiful shot of him.  And I will await the promise of those little bud eyes on my rose that was lowered into the last vestiges of warm ground right outside my door.
Fodder for Life after Frost:
New obsession and image quality to concentrate upon:
And so perhaps inevitably, my little experiment, not at all driven by me but really while sustaining as long as Mother Nature cooperated, has come to a close.  But, it is not without the enlightenment of wisdom born of another person's more keen perceptiveness, realism and openness.  And so now, we will be forced to close the season on Morning Glories.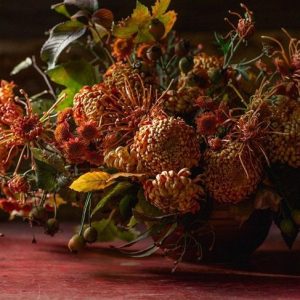 image courtesy Floret Flower – Erin's words resonate
After all that, it is only now that I can say I just needed a little help getting over the hump. All of that excess nonsense I let build up in my mind was just that, silly nonsense.  Let's just keep these bright, sunny days coming now.