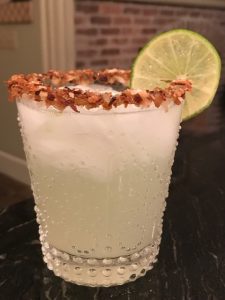 So, it's felt a bit like Summer the past two days.  What better way to embrace the gift than to enjoy a fresh Summery cocktail?  The honey and toasted coconut make this variation of a Vodka Gimlet extra special – just like a 77F day in early November!  Hope you enjoy!
The Toasted Coconut Vodka St. Germaine – makes 1 cocktail
3 oz Belvedere Vodka
3 oz Sparkling Water (not seltzer)
ice
2 tablespoons honey on a small plate
1/2 cup toasted coconut, crumbled
juice of one ripe lime – about 3+ tablespoons
splash of St. Germaine Liqueur
slice of lime
Dip a small on the rocks glass, (about 11 oz to brim) in a small plate of honey to coat the rim.  Dip the glass in the toasted coconut.
Fill a measuring cup with ice and pour in the vodka, sparkling water and lime juice.  Stir to blend.  Add a splash of St. Germaine Liqueur.  Stir.  Pour into serving glass (using a canning funnel if you have one) so as not to spoil the toasted coconut rim.  Garnish with a thin slice of lime.
Enjoy!