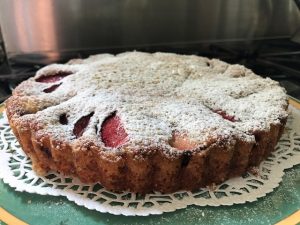 Orange Poppy Seed Cake with Plums
Every once in a while, and more so lately, when I pass a mirror, I think I see my Mom.  It scares the bejesus out of me.  But, truth be told, I should be so lucky.
How did it become the last week of September?  I have barely had a moment to think back on my Paris Summer and my 4 weeks on Cape Cod it has been so busy here.  Arrggghhhh……..  September and October are my two favorite months of the year (except of course for June which is Rose month – and the month of my Mother's birthday) and I want these months to go by vvvvveeeeerrrrryyyyy slowly.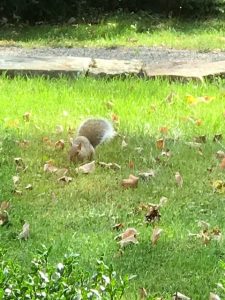 I am going into panic mode as we speak.  It is the last week of September and I am like a squirrel – running around in circles trying to hold off the impending doom with a stick.  I am constantly checking on my flowers and farmer's markets and watching to see if the Summer produce is holding on.  The weather has been unseasonably and continually hot and so I'm not panicking too much yet.  But, I know, as soon as the first cool snap hits, I'm going to go bonkers.  I always do.  I have been hoarding peaches and plums in my kitchen – and happily so.  The peaches have been great for breakfast and the plums I have turned out to be wonderful this morning – still very juicy and fragrant!
When the first frost is forecast, I run around and drag every living flowering plant inside the house.  I will mourn my morning glories.  I will curse and swear like a truck driver.  Of course, none of these ritualistic antics will do a darned thing to prevent what is coming.  Only an airplane ticket will cure what ails me.
Today I got down to business to make a cake for a friend whose Dad passed away a few days ago.  I guess I am turning into my Mother because she always baked a cake for someone who was sad or had a loss.  Of course, she baked cakes for everyone – it was her way of giving love and support – and if that is what I am turning into, well, so be it.  I'd be truly honored, as she was the best person I have ever known.  As time has gone on, baking has become my preferred gesture of thoughtfulness when people are in pain.  Who couldn't use a slice of cake, a cup of tea and a moment of peace in trying times?
Here is my version of the orange-poppyseed cake.  Here I have played around with a recipe from taste.com.au.  Some day I will get down-under to sample their tremendous cooking and baking in person – but, until then, I will continue to play around with their recipes and read Australian Gourmet Traveller from cover to cover.
This cake is simple to make and smells so wonderful while it is baking!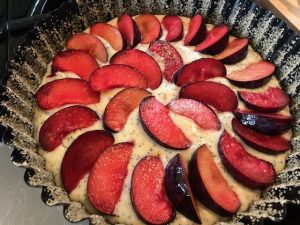 Orange Poppy Seed Cake with Plums – adapted from taste.com.au
1/2 stick unsalted butter, melted
2 ex lg eggs
1/3 cup buttermilk
1 cup granulated sugar
zest of one navel orange
1 tbsp grand marnier
1 cup all purpose flour plus 1 tblsp medium or fine grain corn meal (or 3/4 cup ap flour and 1/4 cup corn meal)
1 1/2 tsp baking powder
1/2 tsp fine sea salt
generous 1/2 tsp freshly grated nutmeg
scant 2 tbsp fresh poppy seeds
5 plums, sliced, skins on
melted butter and muscavado sugar for dusting pan
Preheat oven to 350F. Butter a 9″ round or fluted pan (with removable bottom), add a parchment round and butter it too, and dust the entire pan with muscavado sugar, tapping out excess gently.  Set aside.
Halve and remove pits from the plums.  Slice each half into 4-5 slices, depending on the size of your plums.  Toss with lemon juice to keep from oxidizing.  Set aside.
In a large bowl, combine orange zest, eggs, sugar, grand mariner, butter and buttermilk.  In a separate bowl, whisk together the flour, baking powder, salt, nutmeg, poppy seeds and corn meal.
Add the dry ingredients into the wet ingredients and combine with a rubber spatula until completely blended.  Pour batter into prepared pan and smooth with an offset spatula.  Arrange plum slices around in concentric circles.
Bake for 35 minutes or until puffed and browned and toothpick inserted in center comes out clean.  Remove from oven and cool completely in pan.  Gently remove collar from pan and place cake on a 10″ cake board, a doily and/or a cake plate.  Dust with confectioner's sugar.  Serve with a nice scoop of homemade vanilla ice cream!
As the season goes on and the stone fruits disappear, feel free to sub in apples, pears, grapes or any other seasonal fruits.  There are still some figs around, so go to town.  But, I especially love the deep ruby color of plums in the early Fall.