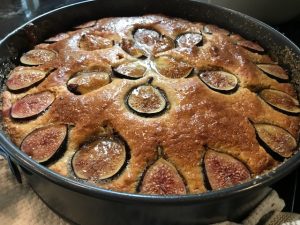 I am definitely still in Summer mode here.  I still have fresh peaches on my counter, for goodness sakes!  I'm wearing shorts!  I'm just got my tan in the last 3 weeks!  What the heck?
Every year at this time I get mixed signals. I'd like to have a nice sweater morning.  I'd like to make a pot roast.  I'll smell a fire in someone's fireplace in the evening.  There have been some cool mornings – especially on Cape Cod, but I am bound and determined not to give in yet.  I don't like what's coming and I resist as long as I possibly can.  I will pretend it is still Summer until the first hard frost kills my morning glories.
But, this morning, the weather got to me.  I moved into the kitchen early and made a broccoli quiche, a batch of my turkey chili and tried to settle in to read a book.  The day languished on and I was antsy and broody.  I began hoping this wasn't a harbinger of the weather to come.  Happily, I had scored some fresh figs yesterday and so, my mind began to wander………….
I would normally not gravitate to pumpkin in mid-September – it's more like mid – October when I get around to pumpkins.  It's just not time for me yet.  The equinox isn't until this coming Friday!  But, flavors began swirling around in my head and the dark, dank first half of the day got the better of me.  So, I experimented.  Here's what happened:
Gluten-Free Pumpkin-Almond Torte with Figs
1 3/4 cups sliced blanched almonds
6 large eggs, separated
zest of one orange
1/2 tsp cream of tartar
1 1/4 cups sugar, separated
1 cup canned pumpkin purée
1/4 cup King Arthur Gluten Free Flour
1 tsp ground cinnamon
1/2 tsp ground cloves
scant 1/2 tsp freshly ground black pepper
1/8 cup St. Germain Elderflower Liqueur
4 drops almond extract
10 fresh black mission figs, quartered
1 tbsp butter
1 tbsp honey
Preheat oven to 350F.  Brush a 10″ springform pan with melted butter and line bottom with parchment.  Brush parchment with butter.  Dust with muscavado sugar and tap out excess.  Set aside.
In the bowl of your food processor, grind almonds and 1/4 cup sugar until very finely ground but not beginning to accumulate at the bottom outer edge of the bowl.
In a large bowl, beat the egg yolks together with the remaining 1 cup sugar until thick and lemon-yellow-colored.  Add the orange zest and almond extract and beat in.  Add the elderflower liqueur and blend.
In a small bowl, mix together the gluten-free flour with the cinnamon, cloves and black pepper.
In the bowl of your electric mixer fitted with the paddle attachment, beat egg whites with the cream of tartar until stiff peaks form.
Once the egg whites are beaten, add the ground almonds to the egg yolk mixture.  Beat in.  Add the pumpkin and the flour mixture and fold in with a rubber spatula.
Remove the bowl of egg whites from the electric mixer.  Using a rubber spatula, gently fold in the egg yolk mixture, working gingerly in order to not deflate eggs.  When mixture is of uniform color, scoop into the prepared pan.  Level with an offset spatula.  Arrange the fig quarters around the top of the batter.
Melt butter and honey together in a small saucepan.
Bake cake for 30 minutes.  At the end of 30 minutes, pull cake out and brush quickly and gingerly with the glaze.  Return quickly to oven and make for 10 more minutes or until toothpick inserted in center comes out clean.  Cool in pan.  Loosen collar carefully – do not run a knife around.  Serve with a dollop of whipped cream, your best vanilla ice cream or a dollop of creme fraiche.  Enjoy!
I bridged the seasons?