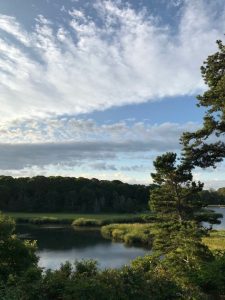 To everything, turn, turn, turn there is a season turn, turn, turn.  And a time to every purpose, under heaven. – the Byrds circa 1965
I think I may have turned a corner last night.  When I awoke this morning I felt more peaceful about it all.
I have been here since August 24.  I arrived whilst deep in the midst of suffering from withdrawals from my 9 week dream Summer in Paris.  It seems that I didn't have enough time to digest and absorb the enormity of what I had just done – to revel in the happiness of it all, to go over each of the days in my mind, rolling them over and over, each and every morning's descent into the Metro to begin the day's adventures, discoveries and delights.  That experience was so profound that I haven't been able to write about it (or anything else) since – just not properly digested. And perhaps it was that I was disquietly and promptly off onto that inevitable next task at hand.  Life always seems to have that habit, greeting you first thing in the morning with the next task at hand, without proper invitation, seemingly insufficiently cognizant of one's needs, moods, wants and fatigue factor – shocking and stinging you a bit before you've even had that first sip of coffee, forcing you into act mode before you've had a chance to consider whether there's the option to change one's mind.
I admit I had a couple of weeks in NJ to process the jet lag and re-entry syndrome.  I cleaned up my garden, surveyed all the work that needed to be done here and there, called Ben Bentley, the roofing expert.  I went about and hoarded in some late-season dahlias and morning glories, working instinctively like a squirrel to ensure there'd be as long a blooming season as possible to coddle me through Fall – color, color everywhere, as, when the growing season begins to take its leave, I get desperate and bored,  crabby and cantankerous.   And then, before I knew it, Christin was gone to Denver and Ryan was gone back to L.A.
A stone-cold sobriety settled down inside my chest.
Before long, I was compelled to load up the car with Harley and Callie and head up 95.  I have been here for just over 2 weeks now, although it seems longer.  The weather has been stellar which makes it all the more tormenting and difficult.  I have to disassemble my home on Cape Cod and move on.
The decision to sell our house had been long in coming, rolling around in our heads for about 3 years.  While the kids lived in Manhattan it became clear that weekends here for them were not practical, let alone enjoyable – unless of course, someone had offered to taxi them up and back on a private plane.  Since there was no chance in that ever happening and then with their separate decisions to depart for western locations, we began to accept that it was probably time to go.  That however, was only part of the equation.  The reasons were deep and varied in spite of the comforts about it here that we had grown to love and take in – but in the final analysis, it was inevitable.  The pivotal thing was the long list of places we wanted to go and things we wanted to do that didn't include here – and the more and more we thought about it, the weather we loved most was just now, not high Summer, but the cool, the crisp, the clear, the irony of the moving out process being called for just now like a smack in the face.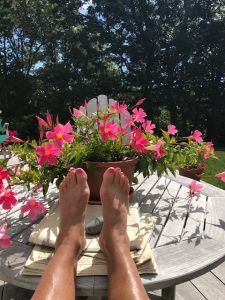 So, for the last 2 weeks I have been roaming about in a state of confusion, conflict and off-putting impending closure – as with mornings such as this the reality sets in. It is incredibly beautiful here with all the elements that would trap one here indefinitely – and yet, one has to pinch oneself over and over with the bitter pill of reality – that these mornings exist but rarely.
I have been through each and every room of the house now, over and over, scraping out little pieces each time, of a life well-lived here.  Memories of the kids from so many years ago – sailing camp certificates, CCSC sailing ribbons, barbecues, trips to the beach, walks with Kit and Harley, copious bowls of steamers and lobsters, gleeful cocktails with Johnny Mac, daily sunrise coffees on the deck, combing through every antique sale and now-defunct antique shop on 6A surfacing with one treasure or another, and many, many more, each burrowing and making fordeep etchings into the chambers of one's heart.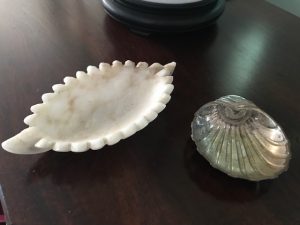 alabaster dish complete with sand, tarnished silver shell
I've now met with movers, estate salesmen, electricians and ferried carloads of donations over to the thrift shop at St. Joan of Arc.  I have had to sift through each and every item, large and small to decide if it goes home, into storage, to the sale, to donation or to the garbage.  It is a painful process as each and every "tchotchke", as Ryan would say, has a meaning and story associated with it.  Almost everything is hard to let go.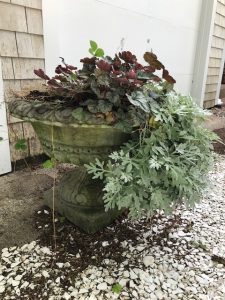 All manner and signs of permanence must be unearthed and removed.   It is at the very least a bittersweet experience and one filled with moments of questioning.  And yet, I can feel a string, albeit thin but formidable, pulling me forward.  There is the bucket list.  There is the future.  There is the "life is for living" formula that stirs inside me and deep down, the determination to "go".
This process isn't finished yet.  I have miles to go before I sleep.  I'm still sorting – this goes here, that goes there.  Each and every object – pot and pan, serving dish, piece of artwork, cookbook, treasured copy of Gourmet Magazine, dish,  razor clam shell fragment calls forward a memory.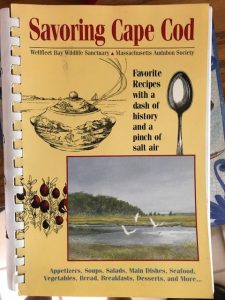 as recommended by Midge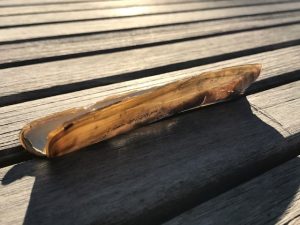 almost perfect razor clam
But, there is no doubt about one thing. I will be sad to leave the Cape after vacationing here for 40 years and owning a home here for 16+.  When you own a home and nest in a place it becomes laden with roots.  Some are deeper than others.  But, like the garden after the first heavy frost, it becomes time to cut back, clean out and accept, however begrudgingly, the next season.
The next weeks will be hard and I will solidify my memories.  I'm filling up the photo banks with great images, saturated colors and scenery that are incomparable.  Each morning when I walk Harley I become very wistful.  I snap away at the beauty all around me – each sweet pea, hydrangea bloom, and color shot of the water as I savor my steps on every peaceful morning walk at Boat Meadow and Skaket.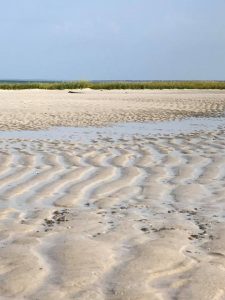 Skaket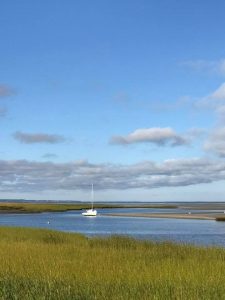 Boat Meadow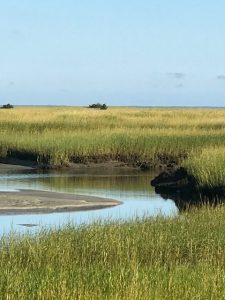 Boat Meadow
This is a comforting place and comforting is alluring when it's in its perfectly called for state – and important as well. I spent so many long weekends here, alone with Kit, even during the Winter months, during the 10 years when my Mom was suffering from dementia and I could not accept her demise.
But, in the final analysis, I don't need comforting as much as I need invigorating at this stage of my life. And, while the beautiful days of September are tugging at me and hard, I will have to go.  Leaving our home seems final.
As the lovely woman whom I met the other day, who grew up in Bedminster and moved here in her Junior year of high school many moons ago, said to me, "You can always return… and if you do, you may find a home you love even more".  Those were sage words.
And there, in a nutshell, was the reason I met her, so serendipitously, on a random Thursday morning in the Agway parking lot.