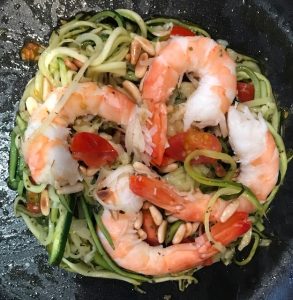 Tinker Tailor Soldier Spy is a 1974 novel by John le Carre and a 2011 movie about Cold War Espionage.  Is it me or does it seem that certain relationships don't evolve very much?  Oh well, that's a whole different kettle of worms……..
Tinker: I tinker with recipes.  Tailor: I'm actually in need of one or a sewing machine right now.  Soldier: I see them every single day here avec machine guns.  Spy: I imagine I pass some by surreptitiously, especially around all the government buildings but especially around the Elysee Palace…….. Yes, it is an exhilarating time in Paris politics.  I suppose you could say, when isn't it?
Some of you may have seen that Nigella Lawson, someone I admire for her grand enthusiasm in the kitchen and melodical voice notes on her old shows, is taking a thrashing for pouring cream into her carbonara recipe.  Thank goodness some commenters have come to her rescue with various stories about this actually not being a new idea – it really started during the war(II) apparently.  Rule breakers often get a bad rap, don't they?
Anyway, if you are into breaking some of the rules as I am, like the one about never serving a seafood dish with cheese, well then, continue reading.
I am firmly ensconced here in my sparse 5×3′ kitchen in Paris this Summer.  I happily have had an excuse to go out and buy a few implements that were missing but knowing that I couldn't haul a lot back home in August, I had to restrain myself.  I have notably kept this urge to a minimum.
Eating out for dinner every night for 8+ weeks becomes tiresome quickly, even in Paris, and especially if you have been out walking for most of the day and especially in the heat.  Sometimes, I just don't want to get dressed again and go out – even if my list of titillating Parisian restaurants is as long as the Summer sunlight here.
Being that I am in the produce markets here daily – there are so many and they are especially good, I have come to appreciate shopping for my ingredients at the end of the day – like the Parisians do – which of course was one of my principal goals about coming here.
I had in my mind yesterday to make my zucchini pasta – which I usually prefer with pesto or, as I posted last year sans tomatoes and shrimp.  (You really can do a lot with this recipe, so go ahead and experiment – like add scallops or another fish – or, even a touch of cream – scandal!)  Being that there is no food processor here and I didn't want store bought pesto – I actually haven't even seen any, I decided to go bare-bones with my recipe.  I just needed the special julienne peeler.
I happened to be over in the kitchen department at Galeries de Lafayette yesterday (hmmmm) and I was able to pick up a Good Grips julienne peeler for $11 euros.  The Rosle one was $35 euros and that was a deal breaker.   I guess I will be forced to admit that I am thankful that there are some American products in Paris.
Anyway, I picked up some gorgeous cooked shrimp in the Epicerie of Bon Marche and I was off.  Here is my quick recipe – especially if you use cooked shrimp –  that I think is very yummy and satisfying.  When I get back to NJ there will be an abundance of zucchini and tomatoes that we will enjoy well into September!  (this is the first time in years that I haven't grown any heirloom tomatoes :(). You should note that you can enjoy a huge pile of this dish without an ounce of guilt – as far as I'm concerned!
My Zucchini Pasta with Fresh Tomatoes and Pignoli Nuts – serves 1 (double or quadruple – just keep the seasonings on bright and on par!)
1 medium zucchini, preferably organic
5 fragrant cherry tomatoes, quartered
1 large garlic clove, chopped
extra virgin olive oil
salt and pepper
1/2 tsp italian seasoning
2 leaves fresh basil, julienne (optional)
generous squeeze lemon juice
1/8 cup pignoli nuts, toasted in a dry pan
6 medium or 4 extra large shrimp, cooked and peeled
several grates of fresh parmesan cheese
Warm olive oil in pan over medium heat.  Add the garlic and cook until fragrant but not browned.  Add the cherry tomatoes and cook for about one minute to begin softening.
Use your julienne peeler to peel the zucchini length-wise, peeling just down to the seeded center.  When the garlic is softened, add this to the pan.  Cook for about 4 minutes, tossing with tongs.  You will want the zucchini to maintain a light crunch at the end.  Add the Italian seasoning, and salt and pepper to taste.
Squeeze the lemon juice over and toss.  Add the cooked shrimp to warm through.  Add the basil, if using and toss.  Add the pignoli nuts and toss.
Remove the zucchini mixture onto a serving plate.  Grate a good amount of parmesan cheese over the top and toss.  Enjoy!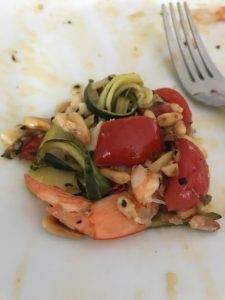 easy, quick, healthy and yummy – especially good on really warm nights – or for lunch!