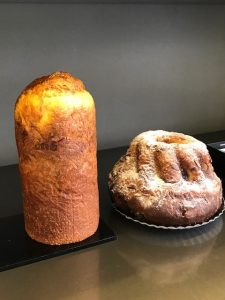 still life
As if I weren't smitten enough already from my previous visits………
I can not believe I have been in Paris for 4 weeks, tomorrow!  Yikes!  It's going by way too fast!  And, while I miss my husband (he'll be here soon), Harley and Callie and my garden every day, I am now feeling deeply bewitched and in-between lives.  And, right now, I am so very lucky to have my two kids here with me, too!  Whatever will I do when the day comes that my ticket is up?  I'm definitely not thinking about that now.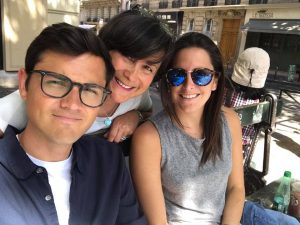 on Sunday June 25
After 4 weeks, somehow I feel completely enmeshed here, like the tentacles of this city's psyche have penetrated my skin and are winding their way around and through my heart.  I feel like I may be in for a very serious conflict if not downright trouble, when that time comes.
Anyone who follows me knows that I gravitate to the same things every single day.  I walk and I walk.  I may be a fool but I am happiest to experience most of what I do in surprise mode and some on purpose.  Luckily, it has only rained part of one day and for awhile yesterday since I arrived on June 1 – and, so my walking expeditions haven't been impeded at all.  It is very dry here and I do wish for a good rain for the plants, however.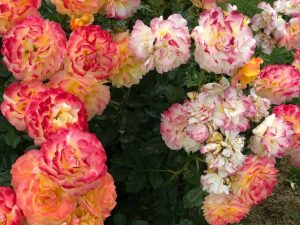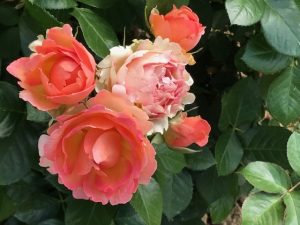 at Rosarie du bois de  Boulogne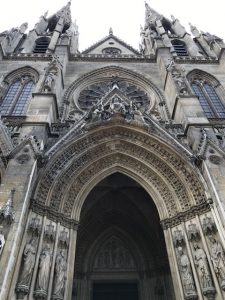 Basilica of Sainte-Clotilde
My major attractions are food, flowers and copious amounts of at-every-turn visual splendor in the form of art, architecture and the social fabric that is made up of the innumerable small shops in every neighborhood that thrives here – mostly but not limited to the boulangerie, patisserie, fromagerie, boucherie, fleuriste, dish stores – and yes, even the few upholstery shops I have spotted here and there.  When was the last time you passed an independent upholsterer?  They are here – they have Louis XVI chairs in their windows and the most gorgeous fabrics on earth.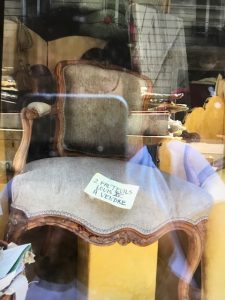 yes, please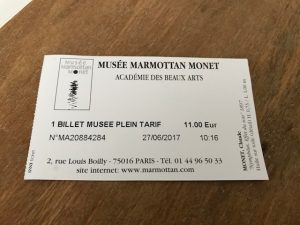 Yesterday, I returned to the Musee Marmottan Monet to share with Christin the panels of Monet which include the heretofore unseen (by me) Agapanthus, some of the incomparable and stunning water lilies collection, their Pissarro exhibit and the Berthe Morisot collection which includes my favorite, Roses Tremieres (Hollyhocks) circa 1884.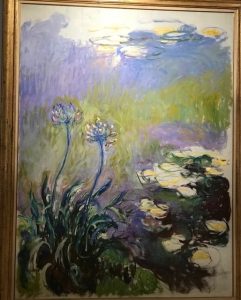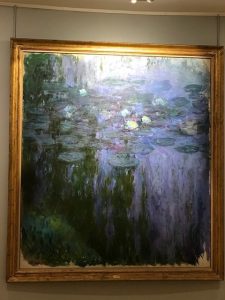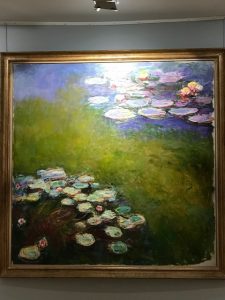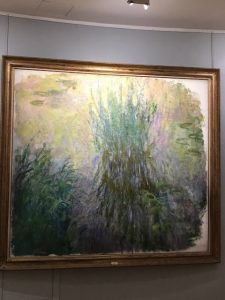 from the Monet collection at Musee Marmorean Monet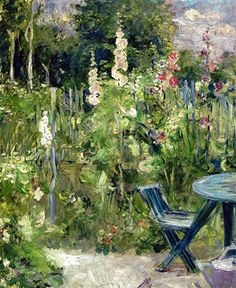 Berthe Morisot's Roses Tremieres 1884
I have long envied the list of my social media contacts from the U.S. who have taken up residence part or full time here in Europe.  I follow a long list of people who appear to be as enamored as I am with life here and, for various reasons have been able to, have decided to take the plunge more or less on a permanent basis or are lucky enough to have apartments here to visit often.  Some have European spouses, others have just been so attracted that they have "moved over".  These include but are not limited to, Katie Parla, David Leibovitz, Elizabeth Minchilli, Jonell Galloway, Dorie Greenspan, Ina Garten just to name a few off the top of my head.
I have happily gotten to the point in my life when I can feel myself being pulled in a direction and I no longer divert myself away to duties or obligations.  I am deeply in indulgence mode and I admit it.  I am enraptured with all the physical beauty that speaks to me in certain places and it is like a craving that has too long been repressed.
Like for example, I am obsessed with this single apricot tree which is heavy with fruit right at the end of our little street in someone's front yard of a tony apartment building.  It was the most happy surprise!  The property is gated and there are a few gorgeous roses in the front yard (which is no more than 10′ deep) as well, and I have all I can do to keep myself from knocking on the gate and asking if anyone is going to pick those apricots!  They are not quite ready yet and so I am biding my time.  Of course, I have no idea how I would pick them as they are quite high up but I can't abide the idea that they may wither on the tree unloved.
All around me are visions that delight me.  Shopkeepers seem to celebrate their wares so enthusiastically, and it's as if they are calling my name.
I have to restrain myself from the impulse to put it all into Mary Poppins' bag and drag it all back home.
Restaurants hang their copper pots outside the door in celebration: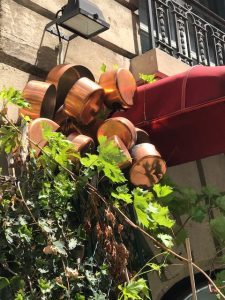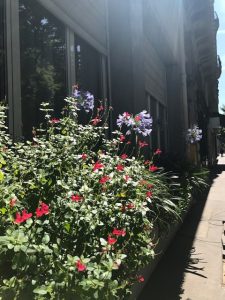 There are agapanthus blooming in window boxes in front of commercial operations.  There are single hollyhocks planted everywhere in the city.  There is the Rosarie de Boulogne which is in all its glory.  There are chickens, a rooster and peacocks there.  People plant flowers everywhere they can fit them and many grow out of the cracks in the sidewalks as if in great defiance of all odds.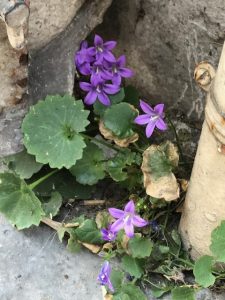 Each of these things speaks to me and makes a stitch in the fabric of my heart.  I know it sounds corny, but I feel a bit like Alice in Wonderland or at least in that haze of happiest dreamland as I walk around.
The number and range of independent patisseries overflowing with the most gorgeous of creations each and every day astounds me.  Every single day I seek out or randomly come upon yet another and I can not help imagine the plethora of bakers who are making these beauties day in and day out.  I find this to be the most refreshing confirmation of organic art imaginable.  These people devote their lives to making highly perishable pieces of edible artwork on an ongoing basis – ones that each would take me an entire day of effort and anxiety, selecting the most pristine of in-season fruits, nuts and other treats and fashioning them into creations born of their own mind's eye.  I'm knocked back by the vast and deeply felt efforts and streams of creativity that are so highly self-expressive and so amazingly beautiful and delicious.
Always ready for the serendipitous – Here is a just-out-of-the-oven Madeleines that Christin scored on Monday just up the road on Avenue Mozart – the aroma itself was to die for.  And, as regards fragrance – try to escape the jasmine that grows all over here in June!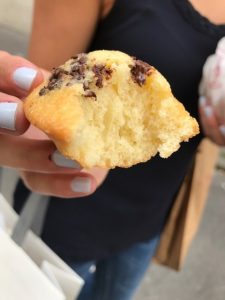 And, yesterday in St. Germain, a spur-of-the-moment fresh Crepe avec beurre et sucre: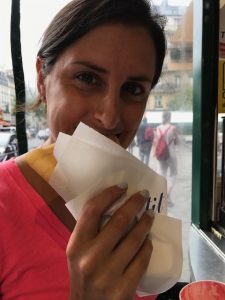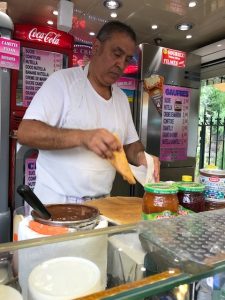 honestly, this is not too tough to take!
There are institutions I could easily volunteer at indefinitely and my favorite and the most-welcoming hotel, Le Bristol where I can drop in and visit my favorite Parisian chat, Fa-raon whenever I want to and they don't think I am some crazy lady from America!  We had the most dreamy long Easter weekend there a few years ago.  We got to know Fa-raon then and will never forget him.  We go first to see him now whenever we arrive!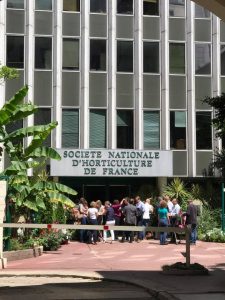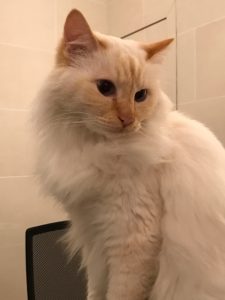 is this the luckiest cat in the world?
Each day I begin with a list of places that I would like to go to – and, I adjust based on weather conditions.  I have yet to take my trips to Versailles and Giverny, two close-in venues on my bucket list.
Each day as I wander, I am not beyond realization of how lucky I am to have this opportunity.  I am not beyond knowing that I am settling in here on every single level.  Hmmm….  I am not going to contemplate the future.  I am committed to doing exactly what I endeavored to do – to allow all of Paris to settle itself upon me, to permeate my senses and my soul.  But, I am not beyond wondering if the people who actually live here for all of their lives understand and love the beauty here as I do or if I am still in the awestruck stage at all its relative uniqueness and newness to me.
It should be no surprise that I would be in love with a city that is in love with its flowers and food.  It should be no surprise that I would oooh and ahhhh over every single architectural gem and hidden passageway that I randomly come upon.  The city is filled with surprises and delights.  Now, I have to go off and get ready for my day today.  Right now it is cool and sunny with the intense blue skies that are iconic here.   I am ready to go!
Right out my window now:
I will never be finished here.  I feel like Marlo Thomas in the That Girl intro – just when she tosses her hat! <3  Yes, I'm gleeful and giddy and for now, and all else is washed away………..