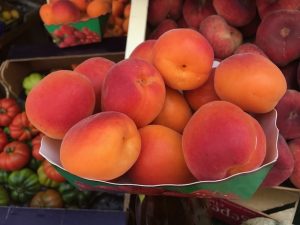 Abricots – ahhhh, if only I could paint in oils or do pastels 🙁
Need one good reason to scream "All hail the EU?"  The produce here is stellar and I'm going to go out on a limb and say it is the most beautiful I have ever seen.   It is ubiquitous and it's printine and perhaps just unbeatable.  And, most of you know that the EU is miles ahead of the U.S. in banning dangerous chemicals used in their farming!  Give the EU 5 stars!
Hello??????  Is there anyone else besides me who is curious about the motivation behind the story lines of movies such as An American in Paris (circa 1951) staring Gene Kelly or Roman Holiday (circa 1953) starring Audrey Hepburn and Gregory Peck?  I must just be one in a longgggg line of people in the category of adoring – so much so that Hollywood producers thought there was enough fodder and fascination there to produce big-time big-screen features about the spectacle of these cities and Americans' fascination with them.  Far be it for me to think I was the first one to be so enamored………
All this debate and controversy about the viability of the EU and Brexit is very interesting to me.    Of course, the list, my list of reasons to be fascinated here is long and varied – and if you read my blog you have heard me yammer on about them quite a bit.  Everywhere I've been "over here" in the last several years has been a visual and spiritual delight and that is quite the understatement.
But, what makes these destinations particularly appealing and sensorially fulfilling to people like me?  The visuals are incomparable.   And yet, one must go beyond the visuals…………
Today, I'd like to yammer on about the quality of produce available here in Paris.  Yes, it is June and we are in the throes of harvest and marketing of abundant and superbe offerings.  Ok, and, inherent in my thoughts is the obvious comparison to that available in the U.S.  I'm not here to go out of my way to criticize the U.S. although I am definitely against the big factory farming model.  I'm just saying that while I understand this is a much smaller market – the entire EU, I'm talking about, they produce such a higher quality and fresher and closer to peak ripeness product than we get in the U.S.  – that's perhaps except for California, I should say.
On the east coast, where I live, let's just say, it is near impossible to obtain a perfectly ripe, juicy and tasty melon.  If you happen upon one that actually exudes a tangible aroma when you buy it, you most likely will have to let it sit on the counter for a few to a lot of days in order for it to be edible.  Here the melons are lovely and fragrant and vendors go out of their way to offer their prizes to you. They cut their melons attractively and practically lure you right in – for a sample first.
I've been here enough times and over to Rue Saint Didier and Blvd Raspail and around the blocks  to see copious numbers of stores dedicated to fresh produce.  And, I'm going to go out on a limb and say it's far and away better quality than what we are getting stateside.
Just take those apricots I spied yesterday over on Rue Saint Dominique.  I'll ask anyone in the U.S. to match those and, if they can, I'll retract my claim.
Walking around and spying if not procuring as many wonderful samples of the food products as I can reasonably defend buying while I am here is one of the reasons I came over.  This is a delight to experience.  And, I love that the buyers here are so discerning and expecting the highest level of output. They arrange, pick and preen over their supplies and their displays like no other.  I have to wonder if they wonder what we are doing on our side of the pond.
Basically, my question becomes, if they can do it here, why can't we do it there?  And, that is where I get int my Alice Waters mode.  Yes, I get her.  And, I know she had her coming of age experience in food in France.  There is so much to learn from her experiences and her sensibilities.
And, at risk of being a broken record – and I do realize that I tend to repeat, and often, several themes in my roamings and ramblings, I do subscribe to Alice's tenets.  Yesterday, I saw this post on her Instagram and I was instantly excited for the release of her new book, Coming to My Senses. Needless to say, I've already pre-ordered my copy.  Alice, for me is the consummate inspiration in the produce aisle, proverbially speaking.  She, for me, has brought the idea of pristine produce to the forefront of the American palate.  Make it simple, make it fresh, make it organic.  Love her!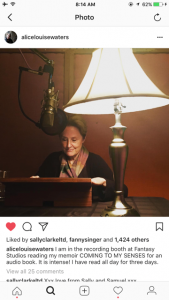 Anyway, that is a long-about way of bringing to the forefront the possibilities for us.  In the U.S. we have so many family farmers who are dedicating themselves to improving the quality of produce available to us.  The proliferation of Farmer's Markets is so encouraging.  I do hope that we can move more toward the quality I am seeing here.
I'm off today to visit the Saint Didier Market again.  And, as I did not buy those apricots and I don't know why I didn't, I will most likely head back over there again.  I have to say I am so impressed with the pride with which the vendors care for and display their products.  This is a big deal here.
Yesterday on Rue Saint Dominique
Off to Saint Didier again today:
I can't quite say how the economics of this all works here – how one can pay the rents involved and procure all of this gorgeous produce that is highly perishable and still remain in business. In fact, the entire retailing market here is a puzzle to me and I'm going to try to understand how it works. Just as in New York, for instance, big designer retailers and independent shoppes exist and seem to all over. In New York, particularly these days, we see a lot more closings, vacant space and movings about. Here, things appear more stable, although I have seen a few vacant storefronts. All in all, it is quite remarkable to see the plethora of thriving businesses.
Honestly, you can't walk half a block in Paris without seeing at least one or more gorgeous produce markets, both indoor and outdoor.  And, I'm here soaking up every single morsel – eyes and tummy!
"Samples" from today's wanderings so far: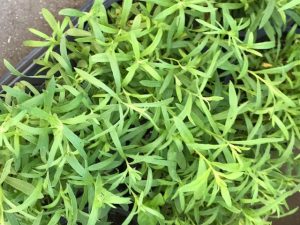 beautiful french tarragon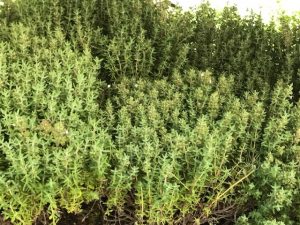 abundant thyme offerings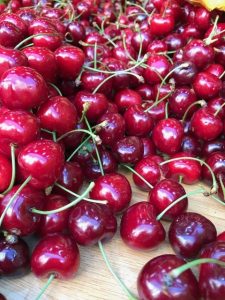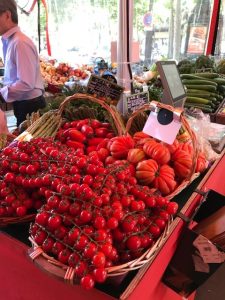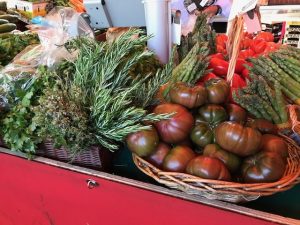 stellar tomatoes, veggies and herbs at Place Victor-Hugo
All hail the E.U.!  I might stop in and give Emmanuel Macron a little hug today! 🙂