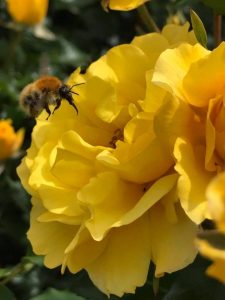 yesterday at La Roseraie de Bagatelle at Le Jardin de Bagatelle
Genome is defined as the complete set of genes or genetic material present in a cell or organism.  I got to wondering if there is a genome for Parisians?  Geome, on the other hand, is a person skilled in geometry.  Both words seem to apply here as my restless mind works to wrap itself around my experiences and come to some melding conclusions – it's just the way my brain works without trying – at some level of synthesizing activity.
Re: the first, genome:  far be it for me to try to mold the genetic code of the Parisian into a generalized box – but as far as my radar are concerned, I do pick up certain general characteristics that seem to float about the atmosphere and coalesce.  The second,  geome, certainly applies to much of present day Paris, in the forms that envelop you everywhere you turn – and particularly and sparklingly in my destination yesterday.
Ok well, I have been here for a full week already.  I have done a good bit of walking.  Already I am getting worried that the huit semaines are going to go by too fast!  I have miles to go before I sleep……
Not to jump around but, two major observations so far – the French are obsessed with their fresh fruit and vegetable markets.  Even my son commented yesterday about the plethora of small independent businesses that abound here.  In just our small little area of a few blocks' radius, there are several flower shops, patisseries, fresh produce vendors, meat markets and cheese markets and on and on.  It is really quite an amazing collection of high quality purveyors of just about anything you can think of, but especially of those particular hallmarks of Paris – food and flowers in pristine-quality.
In New Jersey where I live, two local and long-heralded independent butcher shops went out of business many years ago – Esposito's in Madison and Heffner's Pork Store in Morristown.  Now I drive to New Providence to Barth's Market, about a 20 minute drive, to get a prime selection of meat in the area.  We Americans in the suburbs tend to go to the grocery store where, to be fair, it is a lot more efficient to pick up everything in one fell swoop, throw it in the car and drive back home.  Of course my comparison of city to suburb isn't quite apples and apples (pun intended).
Parisians do que up every evening to buy a baguette and often a dessert.  I learned years ago from the great and wonderful Dorie Greenspan, that in Paris, you don't need to and normally shouldn't bake your own dessert – and why would you when the most amazing creations are available on your corner every day!  It is so easy to stop by way off the Metro and get a bottle of wine, beautiful fish or meat, produce, a baguette and a tart that it is as convenient as the local WF.  I'm not giving WF any great awards here or anything but they are presently the most consistent option for me in the area where I reside stateside.  Kings, while having become very inconsistent, they are the closest store to my house, and seem to be desperate to delete an awful lot of items that I go there for.  They can't seem to make up their mind whether they are an upscale market or competing with the Shop Rite across the street.
Anyway, my second observation has to do with my visit to La Roseraie de Bagatelle.  Just adjacent to where we are living is the second largest park in Paris, Le Bois de Boulogne.  Inside this park are many venues including the Roland-Garros Stadium, where the French Open is played and is moving to its crescendo as we speak.
Well, yesterday I trundled on over to the Rose Garden.  It is hard to choose between one of the premiere tennis events of the year and the rose garden but you can guess which one won out.  I will get there before the weekend.  June, of course is for Roses, and who can resist?
One of the trepidations I had about leaving home to come over here (yes, there were a few) was to leave my garden as it comes into peak season – and to be unable to visit the NYBG on demand throughout the Summer.  The other was leaving Harley and Callie.  🙁
And so, it was such such a great treat to come around the bend on the trail yesterday and see the Roseraie de Bagatelle unfold in front of me.  Those of you who follow me on FB and Instagram have already been flooded with images.  I do have to say that in addition to the bountiful rose display (I could have brought my clippers and enjoyed some dead-heading) the outbuildings and fauna were almost equally as intriguing.  This is a tremendous complex and shouldn't be missed by any garden-lovers.
Here are some, not all of the shots I took.  I have to tell you I am very tempted to return today for a re-do!
At La Roseraie:
Approach from the gate: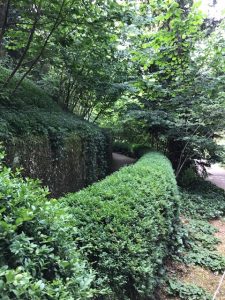 love how they create the mystery before the unfolding
Structures:
Very Fortunate Residents:
Just-Lovely Form:
Partial Array of specimens:
Every time I visit a rose garden such as this, or the Peggy Rockefeller Rose Garden at NYBG, I wish they had available a diagram of the garden and the name and location of every rose.  When I go around I am tempted to photo every single rose I ooh and ahh over and then I want to remember the name so I can go home and look for them to add to my garden.  Unless you meticulously take a photo of each rose and then its name together for records sake, you leave with a collection of lovely pictures but don't necessarily have the info you need.  You can also, if you have any patience, lots of time and some talent, do some sketching or painting, ok, lucky ones of talent………
I did not get around the entire complex yesterday.  It won't be hard to decide to return.
Bon journée!