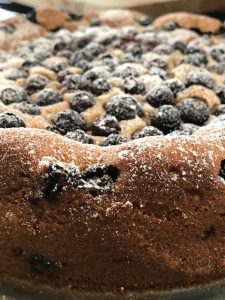 Italian bakers have had a few secrets that have been up their sleeves for a very long while – in their case, that would be centuries.  For those of you like me, who peruse and remember all of the nostalgic and delicious cakes that Italians make, in particular around the Spring and the Easter Season, you will note that there is one ingredient that is common among many of them.  And yet, when it comes to our day-to-day baking, American-style, this ingredient tends to be overlooked when the dairy elements are envisioned and assembled for mis-en-place.  I'm talking about Ricotta.  And yes, we head back to Roman times to find its origin and yes, the regulation of its production.
Ricotta, made from the by-product of cheese-making, whey,  is delicious – especially when it is made fresh.  But even if you aren't inclined to make it yourself or don't have access to freshly-made, you can add a touch of it, even if it is a grocery-store staple, to, what I will call your more ordinary baked goods, and find that it embellishes the texture in unexpected and pleasing ways.  Here is a good article on what Ricotta is, its history and how it is made. https://www.delallo.com/article/ricotta-cheese/#
Of course, Ricotta is best known as the main ingredient in traditional Lasagna filling, baked ziti, ravioli, stuffed shells and other savory dishes.  I also use it with spinach to stuff chicken breasts and bake them.  You can use it in many savory vegetable lasagnas or gratin-like dishes as well.  In the sweet kitchen it's probably best known as a cannoli filling.  When my Mom made her Easter pie every year, I confess to leering sideways at this dessert.  I have since come around to the versatility and delicate nature of ricotta – not only as a condiment to be enjoyed in more whimsical ways, but in my everyday baking as well.
I particularly love it on a crostini with just a drizzle of honey, a piece of fresh fig or peach and a sprinkle of toasted pignolis!  Try it, you'll love it.   I also think Ricotta is absolutely fabulous as the dairy version of the now uber-popular avocado toast for breakfast.   Ricotta pairs well with many different ingredients so, play around as see what you like.  If you're like me though, one piece won't suffice.  Well, onward…….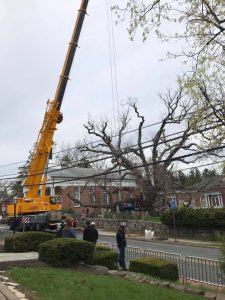 Today, while I was out walking the dog I began craving a nice blueberry something.  I was saddened to see the iconic 600 year old Oak tree in the center of Basking Ridge being prepared to come down.  A small crowd had gathered to say goodbye to the famous tree on the spot where George Washington was said to have once picnicked.  History says the tree was there 300 years before the Church was formed.  A helicopter hovered overhead and the sound of an annoying buzzing, when I was able to locate it, turned out to be a drone!  Ugh, I thought to myself, can't we just offer a dignified goodbye to this wonderful landmark?  On I went.
As I strolled along my mind traveled from just a good muffin to a cornmeal, lime and blueberry scone.  But, I knew what I really wanted was a really good blueberry breakfast-type cake.
I have been meaning to experiment with using ground walnuts in my baking lately.  Unlike many other nuts ground to flours, walnut flour is not too commonly seen – partly because it's shelf life is relatively short and walnuts are very oily.  But, if you grind your nuts yourself and watch them closely you will find that ground walnuts can be a great addition to your cake and other batters.  I love blueberries with orange and so that made the flavor trifecta.  The addition of even a small amount of Ricotta makes a textural difference I think you'll enjoy.
Blueberry Breakfast Cake with Walnuts and Orange
3/4 cups unsalted butter, room temp
1/2 cup sugar
zest of one navel orange
2 eggs
1/2 tsp almond extract
2 cups all purpose flour
1/2 tsp freshly grated nutmeg
1/2 tsp cinnamon
2/3 cups ground walnuts – pulse carefully so they don't become oily
2 tsp baking powder
1/2 tsp baking soda
1/2 cup buttermilk
1/4 cup part skim ricotta cheese
1/4 plus 2 tbsp fresh orange juice
1 pint fresh blueberries
confectioner sugar for dusting
Preheat oven to 350F.  Butter an 8″ springform pan.  Place a circle of parchment in pan and butter the parchment.  Dust with flour, knocking out excess.  Set aside.
In the bowl of your electric mixer fitted with the paddle attachment, cream the butter and sugar together until light and fluffy, about 2 minutes.  Add orange zest and blend.  Add eggs, one at a time and mix in.  Add almond extract and blend.
In a medium bowl, whisk together the flour, ground walnuts, baking powder, baking soda, salt, nutmeg and cinnamon.
In a measuring cup, whisk together the buttermilk, ricotta and orange juice.
With mixer on low, add 1/3 dry ingredients followed by half of the buttermilk/ricotta mixture.  Repeat.  Finish with the last 1/3 of dry ingredients.  Mix just until the flour begins to disappear.  Remove bowl from mixer and finish with a rubber spatula.  Add 1 rounded cup of the blueberries to the batter and fold in.  Pour batter into prepared pan and smooth with an offset spatula.  Scatter remaining blueberries over top of cake.  Bake for 50-55 minutes or until toothpick inserted into center comes out clean and cake has begun to pull away from sides of pan.  Remove from oven and cool in pan 20 minutes.  Gently remove collar from pan, running a sharp knife around edge if you need to.  Cool cake completely.  Dust with confectioner sugar. Serve with a dollop of creme fraiche or ice cream.