Gluten-Free Craze…… Passover……. Amaretti…….
Can a cookie with only three ingredients and purportedly born in 8th Century Venetian monasteries be as relevant or perhaps even more so today?
There are many times when we get into the pastry kitchen and, aside from the individual task at hand, the bowls, the ingredients, the process and outcomes, one can, if one listens closely, become embroiled in the controversy about the origin of the pastry or baked item itself.  The French and Italians have been at it for centuries, arguing over who came up with the idea and first recipe.
If you read around, you will find that, Europe, being one storied continent of roaming, conquering and controversies on cultural, religious, political and economic grounds, stories will soon digress into matters of the kitchen as well.  For me, reading of all the intrigue and competitiveness that winds through history regarding recipe origination is a fascinating hobby.  (Every time I think of how boring history classes can be I try to imagine a cooking or baking story that can bring history alive in a way that kids of all ages can identify with – and, as I recall my own eyes glazing over at moribund efforts to recall the facts of history,  I wonder why teachers don't do this more often.)
For so many reasons, the amaretti is, at least on my page, a most enduring, versatile and timely cookie. Frankly, I'm not sure who first realized that the puffing-up affect of egg whites could be combined with sugar and ground nuts and parlayed into a sweet treat to be handed down through the ages.  Some sources say Catherine de Medici carried these, at least in one iteration, with her from Italy to France.  That was a lot later than the 8th century.  Will we ever know for sure?
Fast forward to the 21st Century and many of us are looking for as many gluten-free options as we can possibly find.  As this present-day battle rages, and it does, over whether or not gluten is truly the contemporary villain that it is purported to be, we can all happily experiment with gluten-free foods without the angst, if we want to.  Amaretti, or its iteration of fame and fortune, the now ubiquitous macaron, can be found, not only on many corners in Paris, but here as well.  Let's take a look.
It's hard to possibly argue with the magical combo of egg whites, almonds, in paste or ground form, and sugar.  A soft or crispy-shelled mound of the resulting paste can be dropped or piped, in the case of the meringue-version, onto a cooke sheet in its natural color or flavored and/or colored in a wide array of profiles.  Pierre Hermé and Ladurée are perhaps the best known present day proprietors of the Macaron, each generating much enthusiasm and devotion, not to mention visual appeal.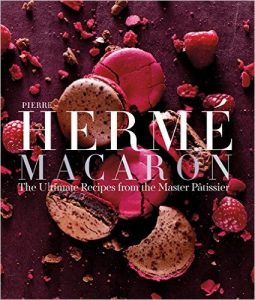 master of Parisian Pastry and of visual imaging as well – courtesy Pierre Hermé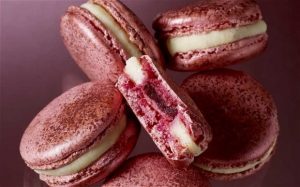 Lychee, Rose and Raspberry -photo courtesy Pierre Hermé – recipe below
Aside from Pierre Hermé's glorious book, I recommend you invest in Dorie's Cookies, Payard Cookies and Mary Ann Esposito's Celebrations Italian Style – if you want a great array of cookie recipes at your fingertips.
The three ingredients can be whipped up into a wide array of cookies – and into flourless tortes for that matter, that may just possibly make you forget about the need for wheat flour in your baking repertoire for a long while.  My list of flourless cookies and tortes/cakes continues to grow and I, for one am happy about this.  But, today, let's just stick with amaretti and macarons.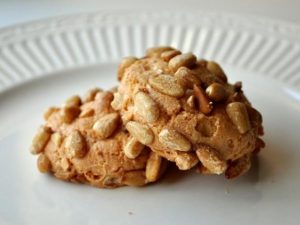 photo courtesy Serious Eats
The three pivotal ingredients can be made into the simple amaretti or macaron or can be embellished with, most commonly, pignoli nuts, coconut and chocolate.  But, beyond that, little bits of fruits, zests, liqueurs, essences, and other flavors can be brought in.
The decision to take two cookies and fill the center with a cream or ganache supposedly belongs to Pierre Desfontaines, grandson of Louis Ernest Ladurée, who in the early 20th Century decided to fill two cookies with chocolate "panache".  The rest is proverbial history. Today, practically any sweet flavor you can imagine can be a macaron.  A few savory flavors can be had as well.
The array of recipes for amaretti or macarons is as wide as the imagination.  Some prefer their amaretti soft.  Some like them crisp and so airy that they burst into little shards when you bite into them.  Some are dense.  Some have a last-minute powdered sugar dusting which crackles as the cookies bake.  If you look around, you will find one or more of each of these options that you may like to try.
Not being Jewish, I went looking to understand the origin of the popularity of eating macarons, typically the coconut variety for Passover.  I should note here that not all of the coconut versions of macarons, and particularly those for Passover, have nuts in them.  Here is a good summary of the tradition:  http://articles.chicagotribune.com/2008-04-16/entertainment/0804140189_1_macaroons-passover-matzo
Here is a little primer of recipes to begin with – it is important to note that following these recipes precisely is important, as I have found, the texture of your dough is fickle and will greatly affect the results!
http://www.seriouseats.com/recipes/2012/03/pine-nut-pignoli-amaretti-cookies-recipe.html
Here is a basic recipe for the macaron from Dorie Greenspan, perhaps my favorite cookie monster: https://food52.com/blog/11560-dorie-greenspan-s-parisian-macarons
Here is a favorite recipe.  I have successfully made iterations of this recipe with lemon zest, candy cane shards, chopped maraschino cherries, and coconut. http://kitchensanctuary.com/2015/02/chewy-amaretti-cookies/
Here is a good basic Coconut Macaron: http://www.joyofbaking.com/ChocolateDippedCoconutMacaroons.html
http://jillianleiboff.blogspot.com/2016/04/passover-week-2016-apricot-and-orange.html
http://globalcookies.blogspot.com/2008/01/italy-amaretti.html
Grapefruit and Anise Macarons: http://www.tarteletteblog.com/2010/05/recipe-grapefruit-and-anise-macarons.html
A favorite flavor combo: http://www.finecooking.com/recipes/passionfruit-mango-macarons.aspx
Pierre Hermé's famous Lychee,Rose and Raspberry: http://www.telegraph.co.uk/foodanddrink/recipes/10302607/Pierre-Hermes-classic-Ispahan-macaron-recipe.html
Perhaps the most intriguing savory macaron recipe comes from Francois Payard in the form of the Black Olive Macaron with Gorgonzola Ice Cream.  It can be found on page 304 of his book, Payard Desserts.
Whether you are purposely gluten-free all of the time, celebrating Passover or just want some amazing treats, I hope you will venture into the kitchen this or next week. As we celebrate the holidays or just the beginning of Springtime, try one or more of these recipes.
Hope you enjoy!