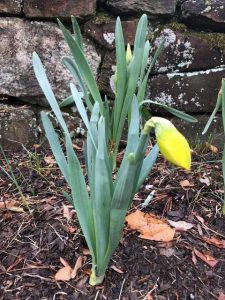 closest thing to a bloom in my yard today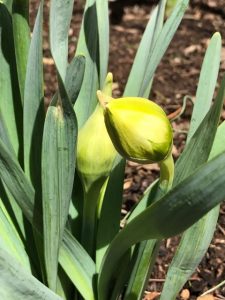 favorite shot from Wednesday
I'm truly hoping today will be the last cold and dreary day that is reminiscent of Winter for April.  It hasn't been very welcoming so far, has it?  My daffodils up at the stable are still holding tight.  I'm usually well along with my out-of-doors chores by this time.
Today, I'm still playing around with my dead anemones from March and keeping a close eye on my patiently-waiting ranunculus collection.  I'm thinking they'll get planted tomorrow.  Even my peas are reluctant!
I have trouble eating well (if well in this case means healthy) in this weather.  It makes me continue to crave comfort foods from months past.  As I left an errand about an hour ago I eyed the pizza place across the street and was mightily tempted to walk in and inquire about a meatball sub.  Yes, that's what I was wanting.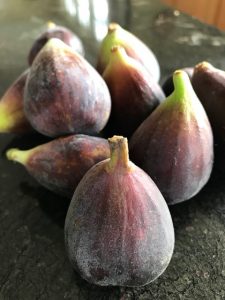 Luckily, I tried to imagine something else warm and satisfying that would really be better for me. Luckily, I had some chicken thighs and those gorgeous figs at home.  I decided to make dinner for lunch.  I decided upon another mélange one-pot meal – I'm so fond of these!   If you need a good dinner in a hurry – this is one to try!  This one is a variation on a theme of others of mine – blood oranges, meyer lemons and all my little quick (aka cheater) gratins!.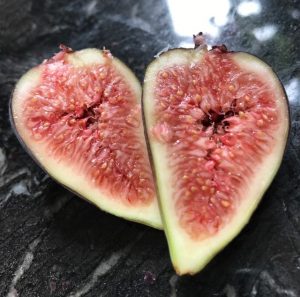 This is simple, quick, good and gorgeous enough for Company.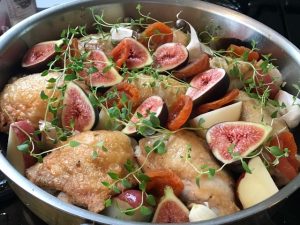 CHICKEN WITH BLACK MISSION FIGS, BLENHEIM APRICOTS AND RED BLISS POTATOES  *
3 tbsp extra virgin olive oil
8 bone in, skin on chicken thighs
5 black mission figs, halved
about 12 dried blenheim apricots,
5 garlic cloves
1 shallot, cut into 8 pieces
3 red bliss potatoes quartered
1/2 cup dry white wine
1/2 cup chicken broth
8 sprigs fresh thyme
8 small (1 tsp) tabs butter
salt and freshly ground pepper to taste
 Preheat oven to 375°F.  
In a 12″ covered casserole, heat the olive oil over high heat for 1 minute.  Salt and pepper the chicken thighs well and add them to the pan.  Brown on each side for about 2 minutes to color the skin.  Remove from the pan and drain the casserole of the fat and discard. 
Deglaze the pan with the white wine for 30 seconds, scraping up brown bits.  Add the chicken back to the pan, arranging with some space between each piece.  Tuck in the potato wedges.  Then arrange the figs and apricots around decoratively.  Tuck in the garlic cloves and the shallot pieces.  Arrange the thyme all around.  
Pour in the chicken broth and add a little more white wine, if necessary – you want about 1/2″ of wine/broth in the bottom of the pan.  Dab the butter pieces all around the top.  
Bake, covered, in the preheated oven for 45 minutes.  Remove cover and bake another 10 minutes.  Viola!  Dinner (or in this case Lunch) is served.  Adjust seasoning.
(*the only thing I would do differently with this is, had I had a couple of slices of Prosciutto de Parma, I'd have rolled them, cut them in chiffonade and tucked them in too – and added a splash or two of lemon juice)
Serve with a fresh green salad, with a light sherry vinaigrette, crusty bread and a crisp white wine.  
And, say goodbye to Winter Dishes for now – while you're praying for some warmer weather!