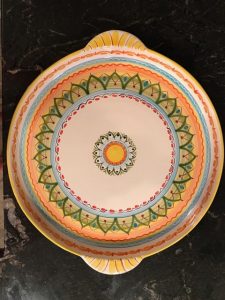 with paints in hand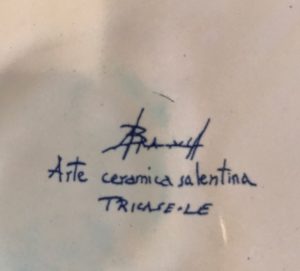 ah, Lecce
Last night I traveled all the way to Italy.  I left my house at 5:50 pm and arrived by 6:02.  No, it wasn't the newest iteration of supersonic travel, although I wish they'd get busy and perfect this.  Sir Richard Branson  and Elon Musk, can't we focus on improving the flying experience around this planet before we try to regularly fly to the others?  Yes, I digress.
Well, I trundled all the way up James Street to the Kings in Morristown.  That's about 5 miles away from my house.  My mission was to meet a food and Italy aficionado I'd met online, like I do in many instances these days.  Between my (heretofore relatively limited but fully ignited) experiences traveling in Europe, Pastry School and experimental self-expressions via word and camera that blossomed about the same time as I began this blog, my range of interests has exploded far and wide (well, actually not too wide, merely over the pond to certain specific destinations).  I now wish to get to know many of the people who are doing the things I want to do – travel the world and learn about food, the people who grow it and express themselves through their own inner-heard and happily-indulged passions.  To say that the genie has been let out of the bottle is the understatement of the day.
I stepped inside the grocery store, having wondered for most of the day where they would stage such a demonstration inside the already full space and wondered why it wasn't in the Short Hills event space.  Immediately inside the door there was a greeter, handing out pamphlets about the event and the store's Italian foods promotion.  Julia Della Croce was there behind a table which was laden with an array of food products that most people would walk by while they select their favorite store brands.
I have wanted to meet Julia for a long while now.  She's been to Italy many more times than I have.  She's written many books about Italian food and has a joie de vivre about the Country, its artisanal offerings and those who produce them.  She is clearly a fountain of information and a passionate devotee of Italian cuisine and experiences. I longed to hear more of her stories.
To hear someone proclaim that Italy is not immune to the rapid changes occurring here and in other parts of the globe and how it's so important to preserve the traditions and memories of the deep culture that means so much to third generation Americans such as myself, was both a blessing and worrisome.  My urgency to explore and experience is heightened when I hear these sentiments.  For many of us who revel in the memories of our grandparents' passion for their own homegrown food and social traditions, it may just strike a cord of panic to think that they might just dissolve in actuality into a homogenous modernity resembling global Starbucks, in what used to be referred to as "the old country".
It might be easy to imagine that the lives of our ancestors were all merry and bountiful with copious numbers of jovial Italian ladies laboring in dreamy, but warm and simple kitchens rolling out doughs and with steaming cauldrons of tomato sauce perfuming the air, baskets-ful of fresh-picked basil, garlic hanging and maybe a freshly-plucked chicken on the counter. (Does heaven have an Italy section?) Such is the stuff of my fantasy-life.  I confess to having created a story in my own little head of grand and romantic proportions.    This is all by way of centering onto my growing curiosity.  In reality, in most cases, we of third generation Americans of southern Italian descent are more likely the product of extreme thriftiness, borderline despair, scarcity of employment, resources and hope than some fantasized image of happy workings in the kitchen.
While I'm busy trying to connect the dots for myself and separate reality from fiction (on some level I want the facts, but I actually may prefer the fantasy), I spend my time trying to get to know those people who, like me, are curiouser and curiouser about the lives of our ancestors in Italy.  Every time I visit, I exclaim out loud that I wish to know the people who built all of what we see of what is now known as Italy.  Who were these people and what drove them to imagine, design and construct buildings that took centuries to bring to fruition?  They build, they paint, they sculpt – and, they cook.  These questions reside within me.  In our world today, when we absolutely can barely stand anything but instant gratification, we have to wonder if evolution to this state of affairs is really "something" or not.  It's just different, I try to assuage myself.
Anyway, I'm rambling here as I'm known to do.  Back to Kings.  I have to admit I was taken by surprise.  I had just been in the store yesterday and never caught sight of the anticipation of what was to take place on Monday evening.
I introduced myself to Julia, we chatted for a moment or two, and I took a seat in the crowded space and wondered how and why this event was orchestrated the way it was.  As Julia deftly discussed the lovely selection of Italian products that they carry in the store, I felt, once again, that odd sharing of aura between  people that apparently occurs when you truly and ethereally share your passions with someone else.
I confess to being caught completely off guard.  I myself was amazed and frustrated at the same time.  Here in my local grocery store there was a group of people flown over from Italy to demo their products.  How I wished these glorious people had gotten a bigger and much longer reception.  I wished to have stayed for hours.  Truly, I wished I could accompany them home.
Who knew?  (And why didn't I know is really the question.)  Anyway, the small group of people who congregated around the table sat to listen to a discussion on "real" olive oil which Julia refers to as "fruit juice".  Ah, yes, it is!  She explained the DOP stamp and how Italy is trying to protect its artisan, homegrown products.  She remarked on the vagaries of the olive oil "industry" where quality, quantity and authenticity are threatened.   She discussed tomatoes and tomato sauce and how to make it properly.  She offered an array of pastas and amaretti.  In particular, the Porcini Pasta caught my imagination.   Then she waxed poetic about the Peach Jam – well.  She discussed the regal town of  Lecce in Puglia, where I have not yet ventured.  I see myself on sunny beaches, rapid fire Italian buzzing around my head.  Did she just say that 80% of Italy's produce comes from Puglia (or Apulia)?   I feel myself packing bags.
Here is an article about DOP:  https://www.walksofitaly.com/blog/food-and-wine/dop-foods-from-italy
I was caught in wonder of the sight of vendors from various parts of Italy who were staged in and around the produce section with their hand made prizes.  It was really a shame that they were all to pack up and go shortly after 7 pm.  Each and every one of them had something unique and prizeworthy to offer and I found myself wishing I was at a full-blown trade show.
My mind reeled as I struggled to understand what I had stepped into here.  Where were the wheels of cheeses and Prosciuttos?  As I sat there, for a little more than an hour, I imagined myself experimenting with a myriad of new recipes like the sorcerer's apprentice that I am.  I saw myself, as I often do, in my own little Tuscan farmhouse with chickens pecking in and out the door.  The sun is shining outside and the hillsides and incomparable landscapes beckon.
Anyway, I accepted the event for what it was and afterward quickly ran around the store and selected a few items for myself to sample.
I said goodbye to Julia and her husband and sadly went back home the way I came.  It was truly a disjointed experience.   I left ignited and unfulfilled at the same time as I tried to shake myself back into reality.  I realized once more where my imagination takes me with so little prompting.  All of those artisans were right in front of me, the lovely ceramicist with his own paints in hand.  My passion and yearning for Italy were once again confirmed, the list of destinations added to, the tickets sold.