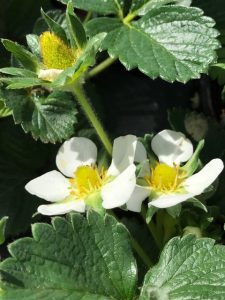 young strawberries – a member of the rose family so not technically a veggie, but technically beautiful right now 🙂
I thought about leaving off the rejoinder " – Vegetables"  but that would have been just a little too shocking for me to put out there……..
Just in case you need something to whet your appetite, get your juices flowing or whatever cliché phraseology you choose, read on here……
In May of 2013 I had the extreme joy of spending time in Rome, Positano and Taormina on one of my trips to Italy.  I confess to dreaming of this time over and over again.  It was purely magical.  I will never forget the moment I stepped outside of our room at Le Sirenuse and, as my eyes scanned the inimitable landscape out and below, they came to rest upon, down below me, the garden belonging to Palazzo Murat.  My heart skipped a few beats.  I was instantly drawn there and I immediately wanted to know who the person was who designed and tended this immaculate and beautiful plot.  It was here that I understood, in an instant, how deeply adhered I am to the mesmerizing and enchanting vision of the garden.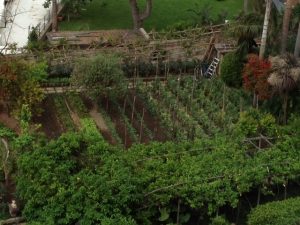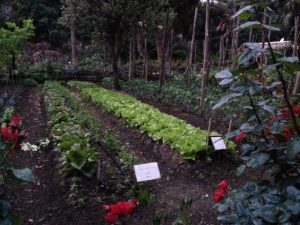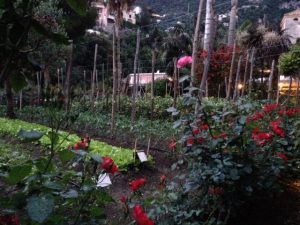 the beautiful garden at Palazzo Murat in Positano
Every year in about mid-February I begin to get the urge to start planting something.  I fidget.  And, I fidget in every way imaginable.  There is some old brain-centered urge to get the season going, to return to the earth with trowel in hand and to dig and to plant.  As I sit at my upstairs desk and look out, I plan in my head the raised bed potager.  Every day when I drive around the corner, I imagine moving my neighbor's greenhouse and attachment into my backyard.
I can not explain the source of this phenomenon but I am certain it is shared by many others.  In Winter usually, I have to get on a plane and fly somewhere where I can reassure myself that things are growing elsewhere.  I feast upon the images of produce and flowers in the "lucky climes", where life continues unimpeded by cold, snow and the dead season.  There is just something inside me that needs to know that the world isn't dead everywhere.  And, I indulge in peoples' photos from the other side of the equator, particularly in Australia and other similar locales in the southern hemisphere where they're eating peaches and tomatoes and all in the dead of January.  It makes me yearn for those weeks in late July when I do my own peach picking here in NJ.
Early Spring is an especially dizzying time for me.  Often, especially on a bright sunny morning, I am flooded with all of the exciting prospects of what's right on the cusp of the season.  It's really the beginning of my happiest time of the year.  Little seedlings are popping and buds are pushing.   I am one of those people who is perennially amazed at the wonder of nature's cycle of renewal.  It just seems like a magical parade of gifts that we receive every year, right outside our doors, many of them freely given, seemingly spontaneous and completely gregariously in nature.
Today, I'm especially inspired by a few photos I've seen over the past week or so where climes are ahead of us and they're already harvesting.  I went running to the Farm as soon as I returned from California in early March.  There I found a complete flat of Ranunculi and some anemones.  That didn't work out so well as March, in its desperate fickleness, blew upon us a death knell, followed by three weeks of reminders that it was not about to let its claim to lion-ness go.
Well, enough of the nostalgia part.
There is a wide array of vegetables that call to present themselves very early in the season. Many early-season enthusiasts are inspired to begin well ahead of the season when the ground is still cold and unwelcoming – mind you, not in California where I happily strolled among Farmer's Market vendors selling their fresh-picked over a month ago.
Right about now we are lucky enough to begin to have a small selection of vegetables that offer themselves to revelers and the impatient, like me.   While many plants, vegetables and fruit peak late-cycle -as their  flavors are dependent on their sugars and need to mature to be enjoyed at their most succulent and peak flavors, we have a handful of early risers.  Some  are even to be enjoyed at even two different intervals – the earliest of the season, tender and newly developing and then again, as almost a completely separate entity, later in the season.
The basket might include peas, wild asparagus, carrots, onions – ramps and scapes, garlic, radishes, lettuces, morels and on a slightly different interval, zucchini, in blossom form.   In a while, there will be rhubarb shoots pushing up.  That's just the beginning.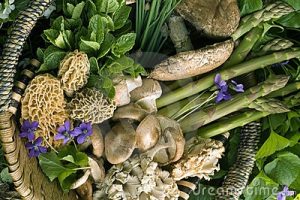 photo courtesy dreamtime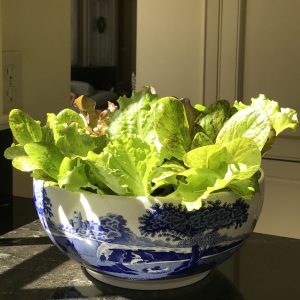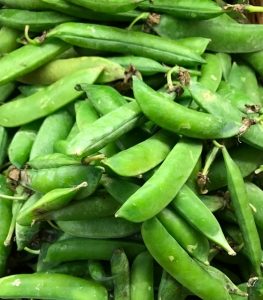 English Peas at Eataly on Monday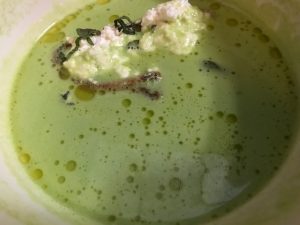 Mercer Kitchen Spring Pea Soup on St. Patrick's Day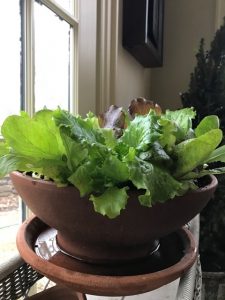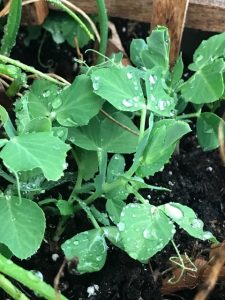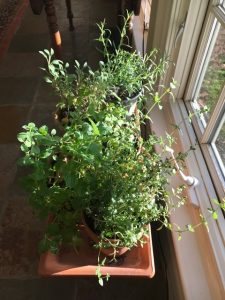 The recipe portfolio for my basket would definitely include early peas.  I became fascinated with early peas a few years ago.  I happened upon some recipes for dips, hummus, pestos and soups.  But this is just scratching the surface, so to speak (that's a chicken metaphor).   I was lucky enough to begin my celebrations by having Jean-Georges' Pea and Mint soup a week or so ago at Mercer Kitchen – my annual "event".  Just peruse the selection of Spring Pea Soup recipes online if you are so inclined.  My favorites include those with tarragon and, of course, the perennial favorite of Alice Waters.  Pea tendrils are especially beautiful and tender.  Try some:
http://www.epicurious.com/recipes/food/views/sesame-pea-shoot-salad-12059
http://www.bonappetit.com/recipe/green-pea-soup-with-tarragon-and-pea-sprouts
http://farmtophilly.com/index.php/site/comments/spring_pea_soup_update/
Earliest vegetables are to be enjoyed as a heralding of the season.  So, if you're like me, take a gander here at these collections and get yourself into celebration mode.  It's a little primer for you to begin.  Don't forget omelets, soufflés and salads, of course.  And, you can make a beautiful plate of just a single item with my fresh pear vinaigrette* as well.  Or a mélange will be beautiful.  Easter is coming in just about two weeks and you can find a beautiful array of ideas here:
https://www.washingtonpost.com/lifestyle/food/you-could-cook-your-way-through-spring-with-these-5-main-ingredients/2017/03/27/8815ea02-0b4a-11e7-a15f-a58d4a988474_story.html?utm_term=.a7c2e718f1d8
http://www.finecooking.com/recipes/spring-vegetable-salad-lemon-vinaigrette.aspx
http://www.bonappetit.com/recipes/slideshow/spring-vegetables-slideshow
http://www.sunset.com/food-wine/fast-fresh/spring-vegetable-recipes
http://www.saveur.com/article/recipes/barigoule-of-spring-vegetables
https://cooking.nytimes.com/recipes/9745-ragout-of-spring-vegetables-with-morels
https://www.washingtonpost.com/news/going-out-guide/wp/2014/04/15/where-to-eat-ramps-fiddleheads-morels-and-other-spring-ingredients/?utm_term=.5449e44de8f3
http://www.saveur.com/content/spring-produce-guide-morels
http://www.saveur.com/article/-/Vegetarian-Recipes-for-Spring
https://food52.com/blog/9050-alice-waters-colorful-carrots-with-butter-and-honey
I think this might be a good starting point.  I might add that you will find the finest of inspiration from the pages of Pascale Beale as well.  Invest in her books or follow her on social media.  She's busy at work in Santa Barbara stirring up the most beautiful of dishes.
Have a lovely day before the rain comes in again.
*Fresh Pear, Ginger, Parsley and Lime Vinaigrette (from https://www.kitchen-inspirational.com/2017/01/25/just-everythings-getting-old-spinach-salad-chicken-avocado-pear-toasted-pecans-pear-ginger-parsley-lime-vinaigrette/
For Dressing:
1/8 cup champagne vinegar
1/8 cup extra virgin olive oil
3-4 slices of the bosc pear, very ripe and fragrant, but not mushy
3 small slices of fresh ginger, peeled (nickel size circumference)
scant 1/8 cup fresh parsley sprigs
scant 1/2 tsp fresh lime zest
2 pinches fine sea salt
2 pinches freshly ground black pepper
Place all ingredients in blender.  Whir together and test for seasonings.