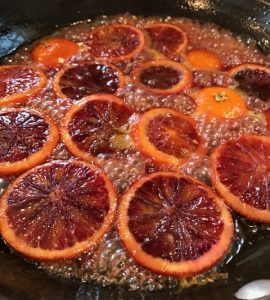 I've learned a million lessons
Six hundred sixty four published posts and another 697 drafts on hold.  Who'd have known I had so many random thoughts and impulses to pursue?  And, I'm just beginning……
Yes, it's been 5 years since the inception of my blog Kitchen-Inspirational.com.
I knew this day was coming and frankly I'd thought about how I needed to work on a really amazing recipe to post for this occasion.  But, when it came down to it, and I thought about what I've actually learned over the past 5 years, three things stood out as primary lessons.  I've met some of the most amazing people ever and continue to be thrilled by the prospects of learning more about other people's work, where they live and love to farm, garden and market and I am completely inspired by all of their efforts and dedication to making this planet a better place to live and eat.
My little lessons:
The more I learn, the more I am humbled of what I don't know.
The simplest of recipes can be elevated quite a bit with some pretty simple ideas and a bit of whimsy.
There is always something in my pantry that I can experiment with every day.
I thought about how much fun I've had over this five year period, experimenting, writing, photographing away and being so lucky to visit some astoundingly beautiful places that make me giddy and filled with glee.  Having this blog has truly been inspirational to me and has motivated me to do and learn so many new and exciting things – not to mention continuing to whet my appetite for traveling all over the world to learn about, see and experiment with all the cultures I know little about.  I've bombed many a recipe attempt along the way, but I've never let that deter me.  My impulses to make up new recipes continue unbridled.  I do hope and pray that I will be able to keep cooking, writing, photoing and traveling and live as many of my dreams that I possibly can.
So, here in its humblest form, is my simple, but I think inviting recipe for this day.   It's not anything spectacular, intricate or fancy, but I think it does show that you can make something beautiful, tasty and satisfying out of your basic pantry ingredients, any day, any time. And, perhaps this is the best lesson to learn about cooking.  Of course, you can sub in any pancake recipe you'd like.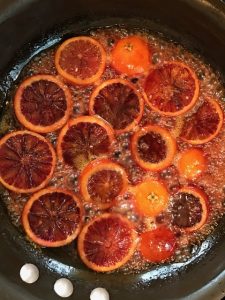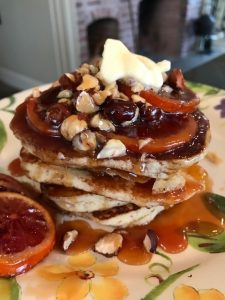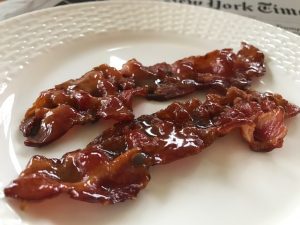 blood orange syrup-glazed bacon
GLUTEN-FREE PANCAKES WITH BLOOD ORANGE SYRUP AND HAZELNUTS AND GLAZED BACON
for the syrup*:
1 tbsp butter
2 blood oranges, sliced
1/4 cup orange blossom honey
1 tsp grand marnier
1/4 cup maple syrup
1/4 cup fresh-squeezed orange juice  
1/4 tsp cinnamon
In a large skillet melt the butter.  Arrange the blood orange slices around the pan.  Pour over the honey and heat to warm.  Add the orange juice, cinnamon, grand marnier and maple syrup.  Cook for 5 minutes or until the syrup is thickened and the oranges are soft and fragrant.
for the pancakes: adapted from Ellie Krieger
1 cup brown rice flour
1 tbsp cornstarch
1/3 cup almond flour
1/4 cup hazelnut flour
2 tsp baking powder
1/2 tsp salt
1/4 tsp cinnamon
1 tsp orange zest
1 cup buttermilk
2 eggs
1 tsp vanilla
1 tbsp honey
1 tbsp grapeseed oil  
1/2 cup chopped hazelnuts
2-4 slices nicely browned bacon
Preheat a skillet on medium heat.  Butter lightly but don't let it burn. 
In a large bowl, whisk together the flours, cornstarch, baking powder, salt, cinnamon and zest.  In a medium bowl, whisk together the buttermilk, eggs, vanilla, oil, and honey.  Add the wet ingredients into the dry and gently mix with a rubber spatula.
Scoop 1/4 mounds onto the warm skillet and cook pancakes for 1-2 minutes per side, adjusting heat so they do not burn.  When cooked through and nicely browned, move to a serving plate.
Arrange blood orange slices over top, dot with butter, sprinkle with the hazelnuts and pour over syrup.  Drag the bacon slices through reserved syrup and serve.
* feel free to omit the honey and/or maple syrup and just reduce the juice
Enjoy!  Have a lovely early Spring day!