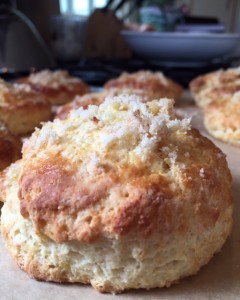 I'm convinced honey is alive!  Read on………
You know me, I am absolutely obsessed with the bees and their honey!  This Fall I mistakenly killed a honey bee in my yard and it took me several hours to get over it – I kid you not.  You may be thinking as you read this that I really do need to get a life here, but in all honesty, every single honey bee is worth protecting!  These creatures, along with butterflies and hummingbirds are constant sources of wonder and delight for me.  They are bonafide full-on precious miracles in their own right and I do, yes, spend hours chasing them around my yard during the living months.  Sometimes they try to warn me off – but I'm not deterred – I try to only snap away if they're ok with it!
I am totally in awe of the subtle tingling sensation on the palate I get when I taste really good honey.  It leaves an unparalleled giggly sensation and lingering, ethereal flavor on your palate – one that, if you are attuned, will last for a long while after the actual honey is in your mouth.  My Facebook page, On Behalf of Bees, where I share a lot of pertinent information I collect on the plight of bees has 305 likes, and from all over the world!  Take a peak.  Here is a wonderful post about how honey is made:
http://beekeepinglikeagirl.com/is-honey-vegan/  – just in case you don't know all of the particulars.
I first had this set of ah-has when I brought back the Single Estate Welsh Heather Honey a few Winters ago from London.  Then I had some amazing Gerasole – Sunflower Honey from Tuscany.  Seriously, is there any other single food item with such a magical essence?  I am so totally smitten!  I could very happily make a career as a honey taster!  You may have noticed that my camera is particularly fascinated with the industrious workers whose product this is, as well.  I crave photoing them all through the season, even when they are near-frozen at the end of Fall.   I actually came upon a few over the last few weeks, just before I left on holiday.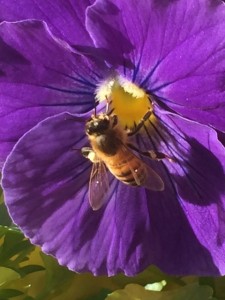 photo taken in my back yard December 16, 2015 <3 <3 <3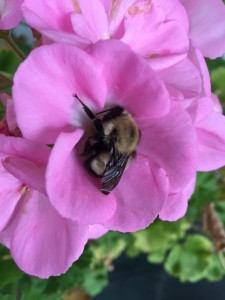 this bumble bee didn't move for 3 days (November 11)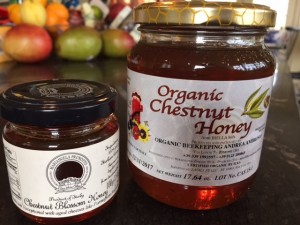 care to guess where it came from?
Up today is my first experimentation with Chestnut Honey.  I have long been meaning to do a thorough delving into the world of the Chestnut, in particular as it relates to the Italian tradition.  Last week's reading into Gina De Palma's archives got me a little more motivated. (I'm now scouring the Dolci chapter in the Babbo Cookbook where Gina offers a Chestnut Cake).  While the fresh Chestnuts that I have access to around here are long gone, that is the ones I can pick up off the ground when I walk the dog, I have procured some Chestnut flour and now, lovingly, some choice Italian Chestnut Honey to experiment with.
You know I am particularly obsessed with winter citrus right now.  It is the gift that keeps on giving while Summer takes a ride to the other side of the equator.    I did indeed make yet another trip to Eataly yesterday to look over the vast array of offerings and bought yet another bag full of Blood Oranges and one of Meyer Lemons as well.  (Hint:  I'm working on another article for Intermezzo).  But, today's foray began with the simple lemon from California.
I have long had on my mind the simplicity of the lemon scone, wanting to both heighten the profile of the fresh lemon taste and yet to complement it with just a little something.  I had in my mind's eye a light as a feather lemon scone with a dusting of sugar on top.  Today, I went on a bit and added some stone ground corn meal and my new Chestnut Honey.  What came out were the most tender of scones, but with a slightest hint of a little girth from the corn, and the most delicate essence of that ethereal and unmistakable Chestnut honey.  Oh dear.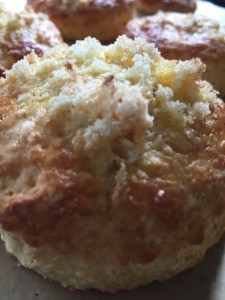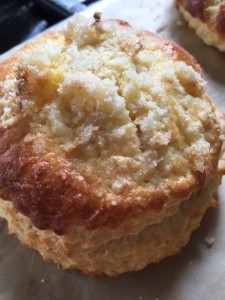 English Muffins (real ones) have nothing on these nooks and crannies!
LEMON-CORN SCONES WITH CHESTNUT HONEY
2 cups all purpose flour – I used Bob's Red Mill Organic 
1 cup organic stone ground corn meal
1 tablespoon baking powder
1/2 tsp salt
1/4 cup sugar
zest of 1 1/2 – 2  large lemons (2 tblsp)
8 tablespoons unsalted butter, cold, cut into cubes
2 eggs
1/2 cup buttermilk
1/4 cup plain greek yogurt  
scant 1/4 tsp almond extract
1 tablespoon Chestnut Honey
1 tablespoon fresh lemon juice  
egg wash
1/4 cup sugar mixed together with your fingertips with zest of 1/2 lemon  
Preheat oven to 425F.  Line a baking sheet with parchment paper and set aside.  
In the bowl of your food processor, whir together the flour, corn meal, baking powder, sugar, salt and lemon zest.  Add the cubed butter and pulse 8-9 times or until the butter resembles small peas.  Dump this mixture into a low wide bowl.  In a large measuring cup, whisk together the eggs, buttermilk, yogurt, almond extract, lemon juice, and Chestnut Honey.  
Make a well in the center of the dry ingredients.  Add about 3/4 of the wet ingredients.  Working with a dough scraper, begin to pull the dry ingredients into the wet, adding more wet as needed.  When the mixture begins to hold together, knead lightly with your hands and turn out onto a lightly floured surface.  Knead for a few turns and pat out into a 1 1/4″ high height.  Using a 3″ fluted biscuit cutter, cut out the scones and place on the prepared baking sheet.  Re-roll or pat out the remaining dough, using the lightest hand and cut out more scones until the dough is gone.  Brush with egg wash and sprinkle with the lemon sugar.  Bake for 14-18 minutes or until nicely browned and puffed.  Serve with your best sweet butter.  Enjoy!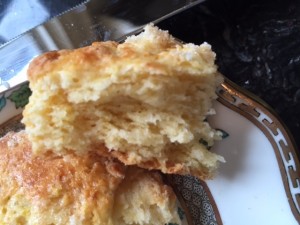 this is what I consider to be pretty near-perfect scone texture – light as a feather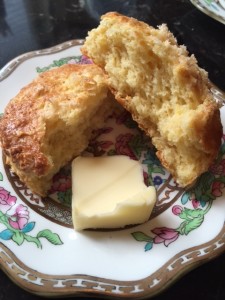 <3
You will be amazed that even with only 1 tablespoon of Chestnut Honey in this recipe, there it was – that subtle tingle and lingering, unmistakable loveliness!